As I'd been spending a lot of time visiting cities, I decided I wanted to get out into the countryside more on my trip to Nîmes. I had plans to visit the Camargue, which would involve lots of nature, so decided a day trip to Pont du Gard would be a good option to combine nature and history. I loved the Roman ruins I saw in Nimes and after seeing a few photos, I knew visiting the Pont du Gard would be worth it.
Almost everywhere I looked recommended renting a car. I don't drive, so I kept looking to find out how to get to Pont du Gard by public transport. I usually use Google Maps to look up bus routes, but it wasn't showing any. Luckily, I found this post by Carly at Fearless Female Travels which helped me plan.
My trip cost a grand total of 3 euros! It's definitely a great option for budget travellers! Access to the aqueduct itself is free; it only costs money for guided tours or for the educational area.
About Pont du Gard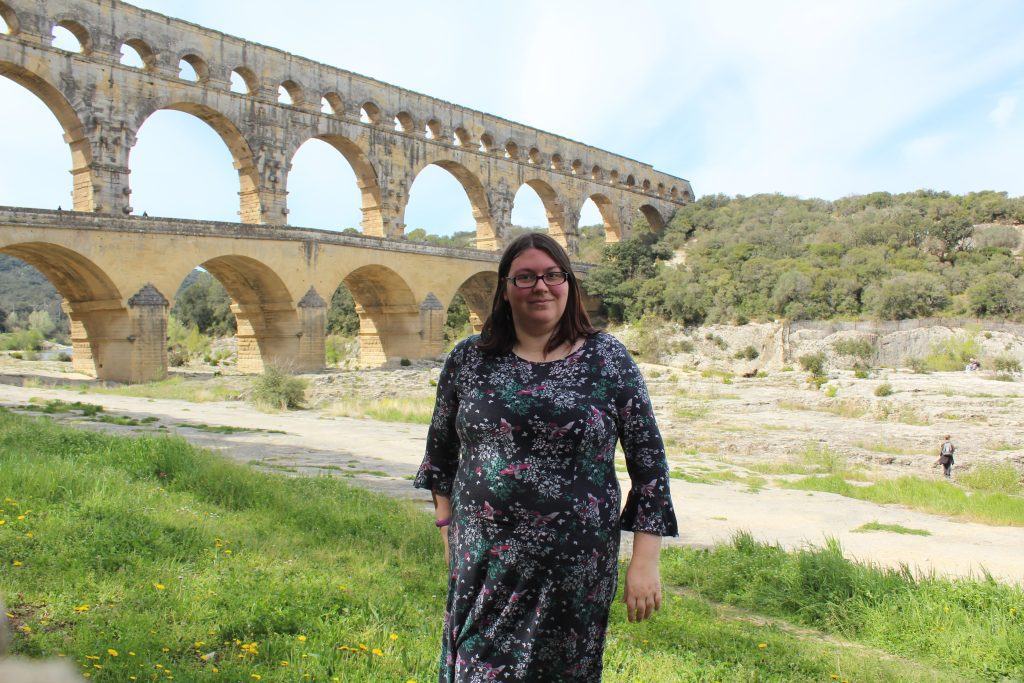 The Pont du Gard aqueduct bridge was built in the first century AD to bring water to Nîmes. It ceased to be used in the 6th century and unfortunately the bridge is one of the only sections left. It is one of the tallest Roman bridges and is incredibly well preserved. In 1985 it was made an UNESCO site and receives over a million visitors every year.
How to get to Pont du Gard by bus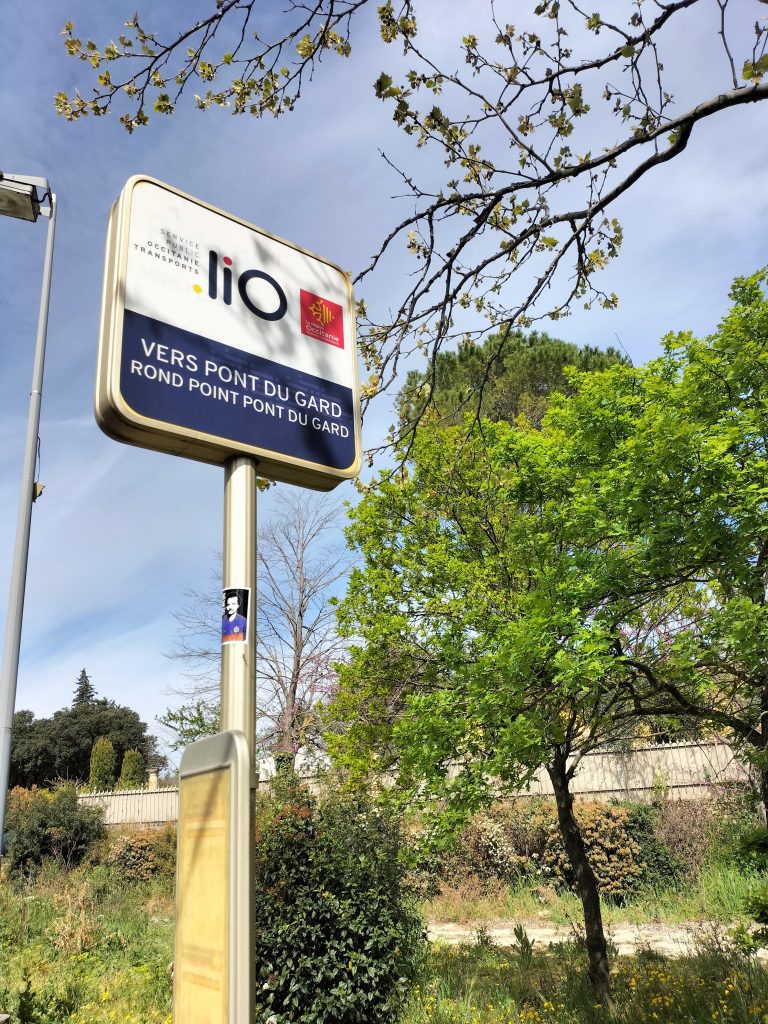 It is very easy to get from Nimes to Pont du Gard by bus. The bus is number 121 and runs throughout the day. For those coming from Avignon, it's bus 115. You can check the timetables on the Lio website for the most up-to-date times. The bus takes around 40 minutes from Nimes and drops you off at a roundabout next to the visitor centre. From there, it's just a short walk to the entrance.
There are less buses in the evening, with the last bus to Nimes departing at 18:14. I chose to get the earlier one at 15:49 just to be extra safe and because I wanted to get back in time to visit the Roman museum before it closed.
For those that don't want to take public transport, there is a large car park with plenty of space. You can find the rates for parking your car on the official website.
The Aqueduct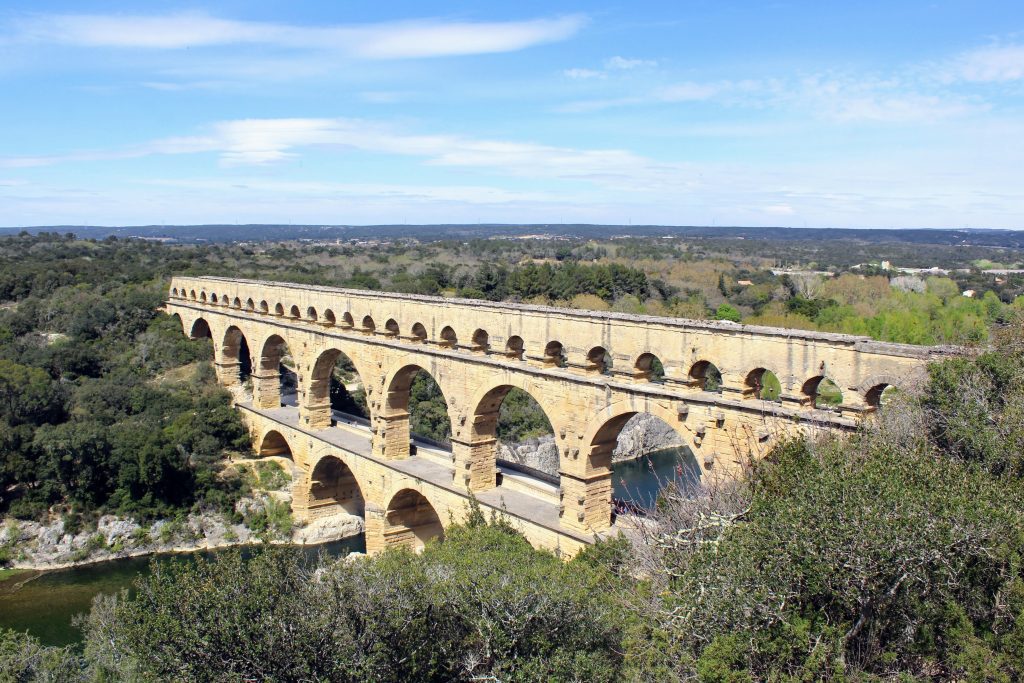 When you arrive, you can just head straight through the visitor centre. You don't need a ticket for the aqueduct itself, you only need to pay for the educational area (or for parking if you drove). On your way, you'll pass by a lot of olive trees, including one very old one that is over 1,000 years old.
You can cross the aqueduct on the lower levels, and while crossing if you look up you can see signs left by the builders. At both sides, you can climb down to the river bank itself and get right up to the pillars holding it in place. The river narrows and ends up only flowing through one arch, the rest are all rocky. There are walking paths on both sides, and I highly recommend taking a stroll down one side. It both helps you get away from the crowds, and also will let you get some fantastic views of the aqueduct.
What to do at the Aqueduct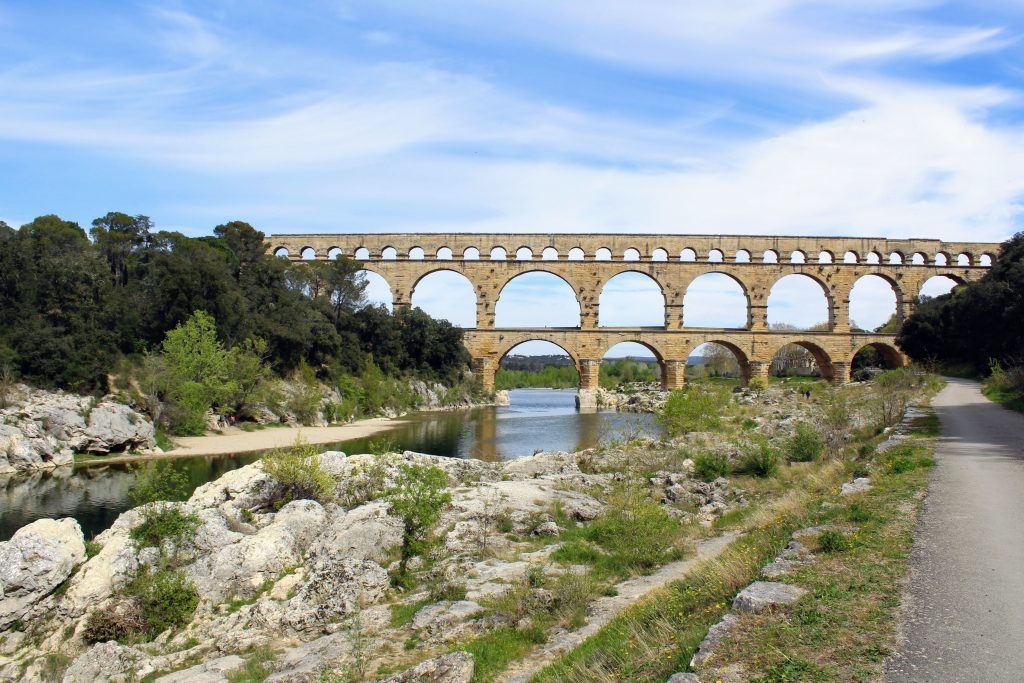 Swimming in the river is a very popular activity when it's hot. There are signs telling you where you're allowed to swim and warning against getting too close to the aqueduct. As I visited in April, it was a bit early for swimming. I'd brought my swimming costume just in case but unfortunately it was still a bit too cold. I did briefly dip my feet in the water, and I can imagine it being very refreshing in the summer. This just means I'll need to come back again in the future!
Another activity I saw people doing was kayaking on the river, and although I love kayaking I just didn't have the time.
Finally, every summer they illuminate the aqueduct at night. Unfortunately if you are using public transport for your day trip to Pont du Gard then you won't be able to stay for that as the last bus leaves too early.
The Viewpoints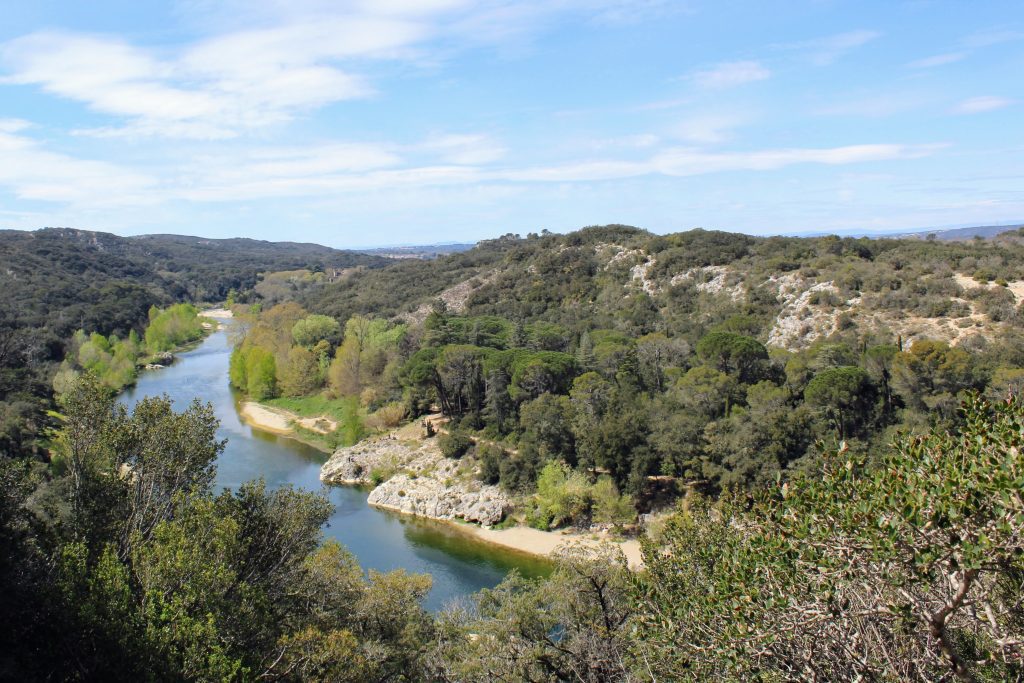 On both side of the aqueduct are paths leading up to viewpoints. Despite how much I struggle going uphill, I'm never one to turn down an opportunity for a great view so naturally I had to climb both of them.
I chose to climb the right bank first, if you plan on climbing both then I would recommend this as the left bank has a nice trail you can walk back to the centre. The way up to the viewpoint is clearly signposted and not too challenging to climb. Once you reach the top, you can also see the upper layer of the aqueduct where the water would have been. You can't access it from this side, but if you take an official guided tour then you can access it on the left bank.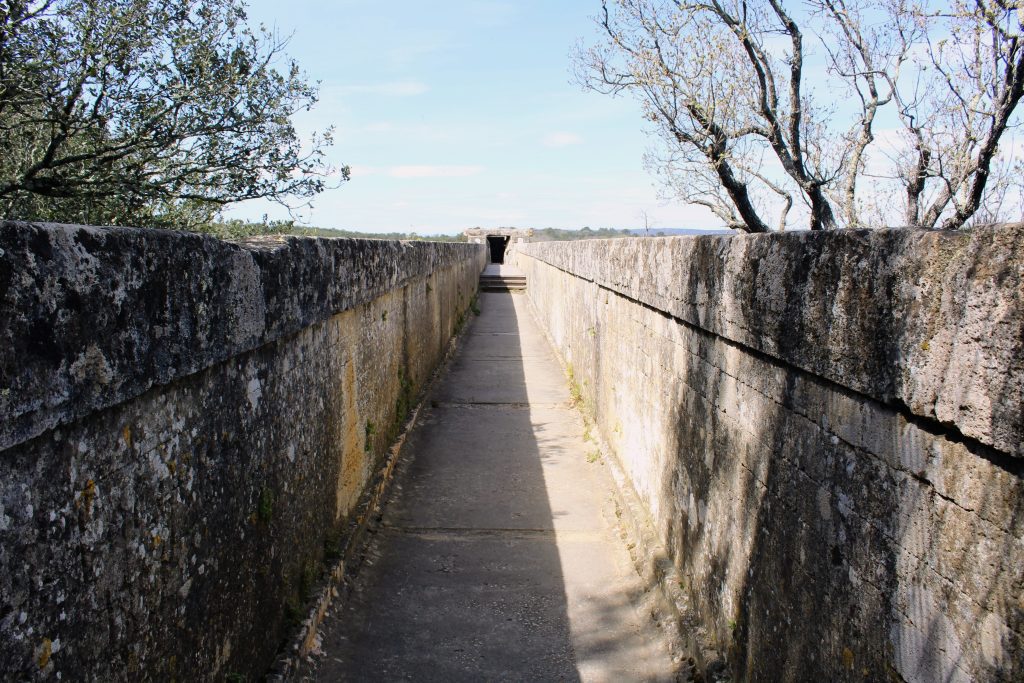 Aqueduct remains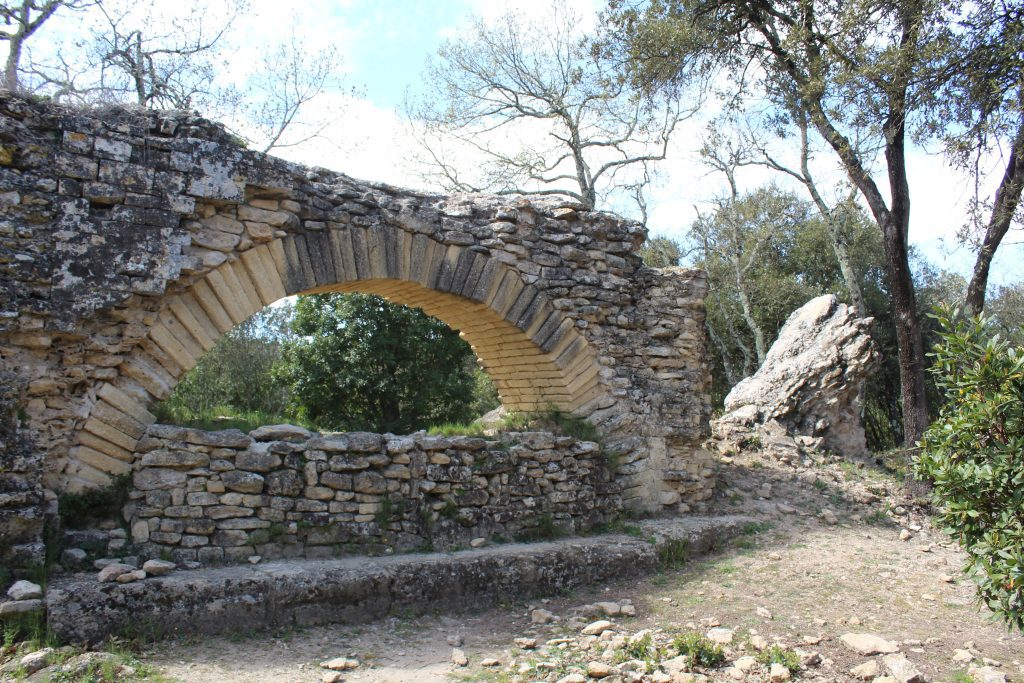 After reaching the viewpoint on the left bank, it's possible to continue onwards to reach further ruins of the aqueduct on the remains trail. This area was very quiet as most tours will only focus on the aqueduct itself. I only saw a few other people, mostly people walking their dogs. There are several signs along the way to help keep you on the right path. I also took a photo of the map and had Google Maps open as I didn't want to follow the entire route.
As part of the trail, there are several signs telling you some more of the history of the area which are very interesting. They are only available in French, so if you can't read it then I recommend using a translate app. You can also take photos and translate them later.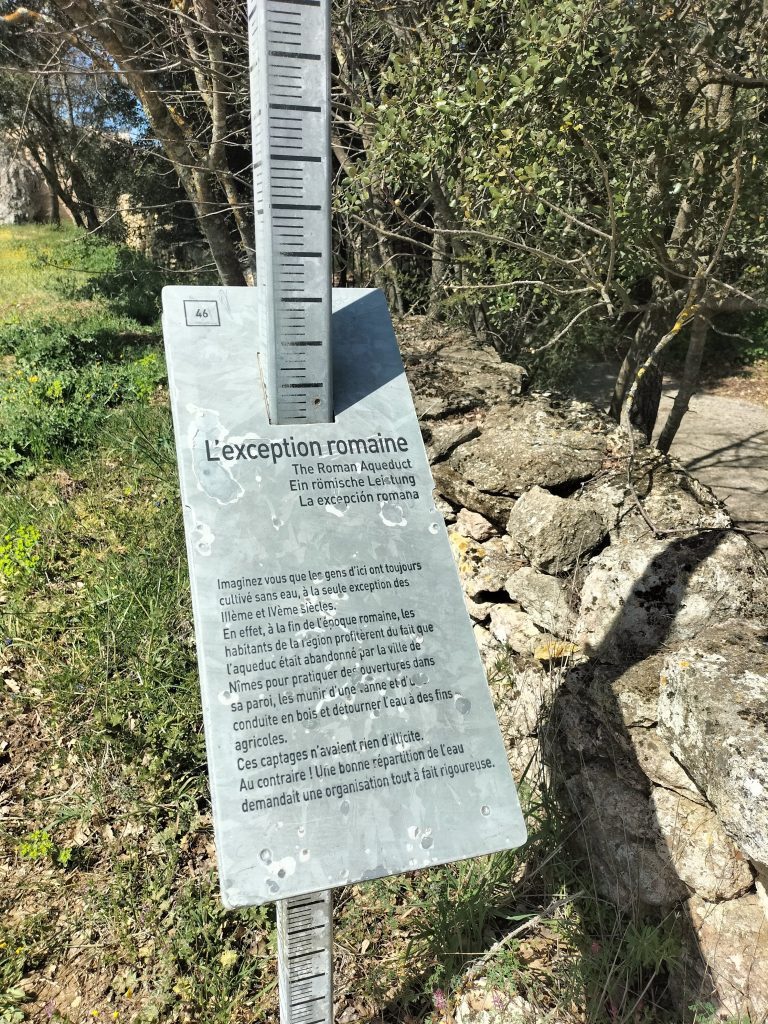 The Visitor Centre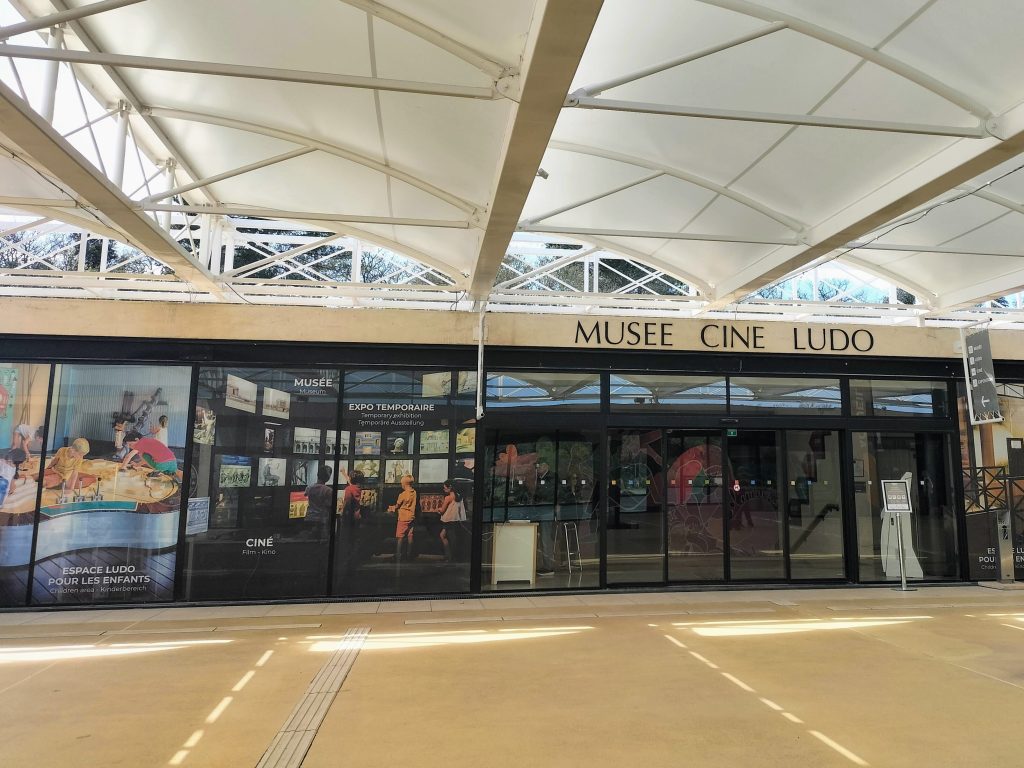 On my way back, I had a brief stop in the gift shop to buy myself a magnet, and it had a good selection of souvenirs. I decided against visiting the museum though as I felt I would rather go back early to visit the Roman museum in Nimes instead. This also helped me save money as the educational area requires a ticket and since I'd already paid for all the Roman sites in Nimes, it was nice to be able to do something free.
---
Have you done a day trip to Pont du Gard? What did you think? Would you recommend the paid section?