Etosha national park in Namibia is a huge, 22,270 km2 national park containing hundreds of different species of animals. It definitely should not be missed when visiting Namibia, and although I only spent two nights at Etosha you could easily spend a lot longer there!
The park is named after the Etosha salt pan which covers almost a quarter of the park. Etosha means "Great White Place" in Oshindonga language. The areas of the park accessible to visitors are along the south and east edges of the pan.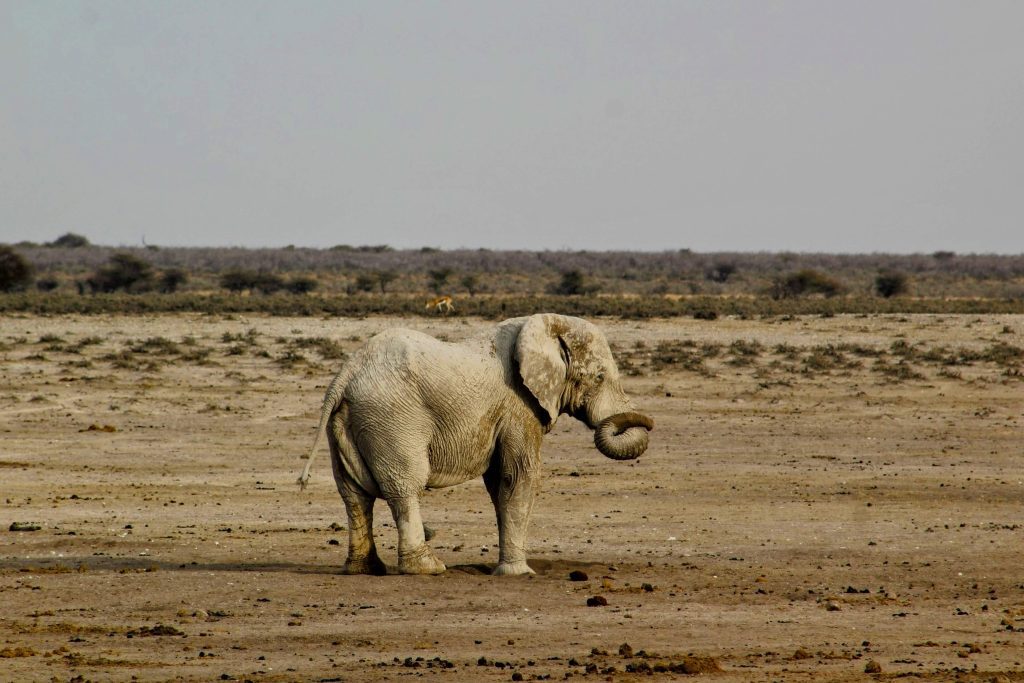 For those wanting to see the big 5, the park doesn't have Buffalo; however your chances of seeing both elephants and rhinos are very high. We saw some lions when I was there, but they were quite far away. Unfortunately, we didn't manage to see any leopards. They are there though; they're just very hard to spot.
Getting to Etosha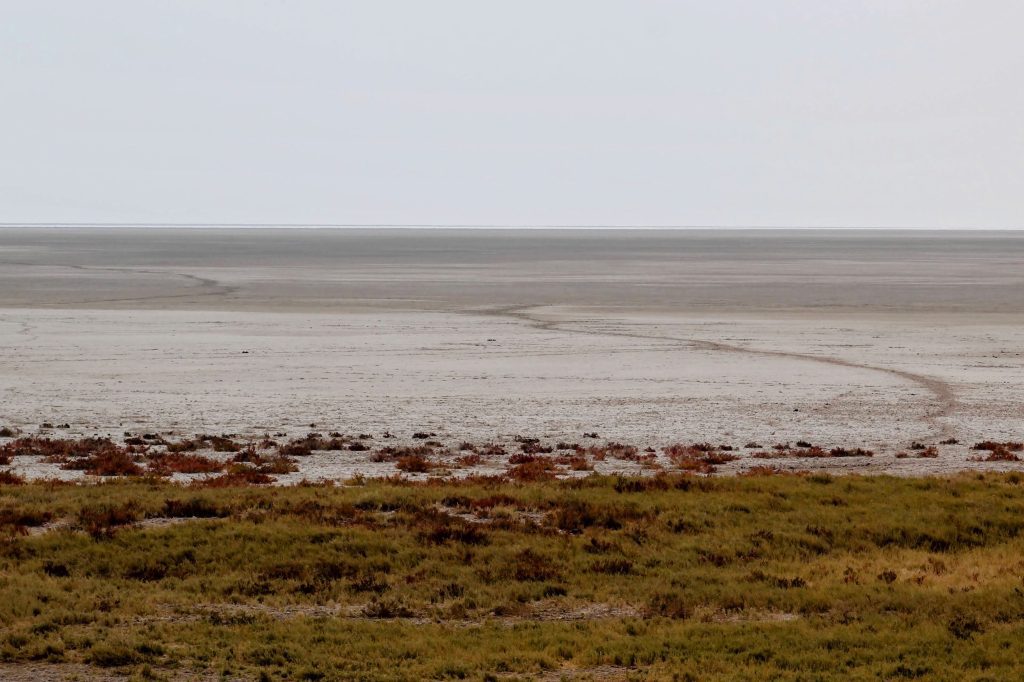 I was visiting Namibia as part of a group tour, so I didn't need to worry about getting there. There are four different entrances to the park, depending on where you are driving from. We drove there and entered via the Anderson Gate. This is the gate that is located closest to Windhoek and is the one that most travellers are likely to enter through. You can get maps of the park on the official website to help your planning, and to show you the distances between camps.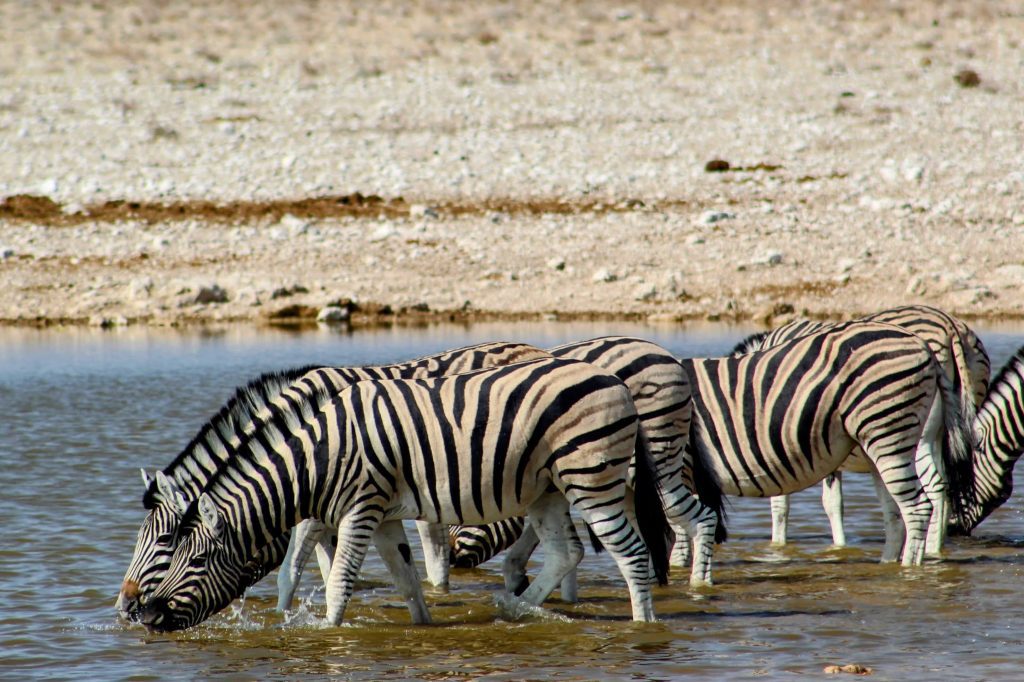 The gates open at sunrise, and close at sunset, so you'll need to check daily what times those are. The camp I stayed at, Okaukeujo, had a sign at the entrance showing you the times. You cannot drive at night, so make sure to factor in enough time to get back to the camps (or to exit the park) before sunset.
The park is very large and involves lots of driving, so I highly recommend spending at least two nights at Etosh. You can arrive the first day and then stay in the park itself so that on the second day you're ready to go straight away.
Accommodation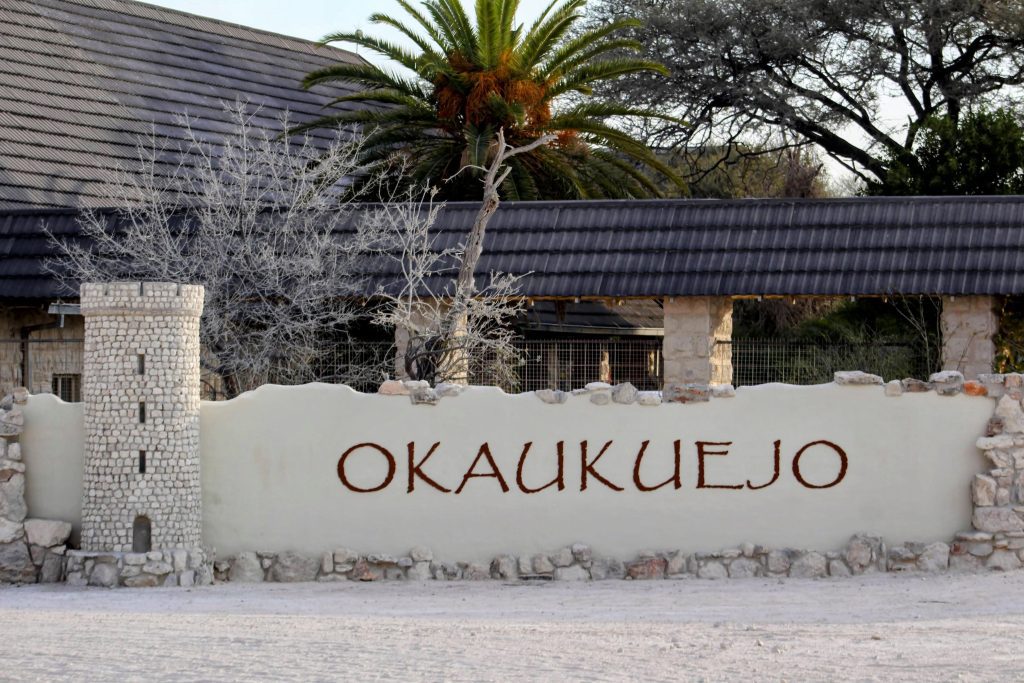 I spent both of my two nights at Etosha camping in Okaukeujo. This campsite is located very close to the Anderson gate and has a fantastic waterhole!
The campsite offers both camping areas and lodges for those wanting a bit more luxury. The fanciest accommodation directly overlooks the watering hole but there are plenty of benches for everybody else. There is a swimming pool located near reception, and a small tower you can climb with good sunset views. The one downside is that the WiFi is not the best, and can only be used near reception. Some people struggled to even connect to it on the first night, so definitely not something to rely on.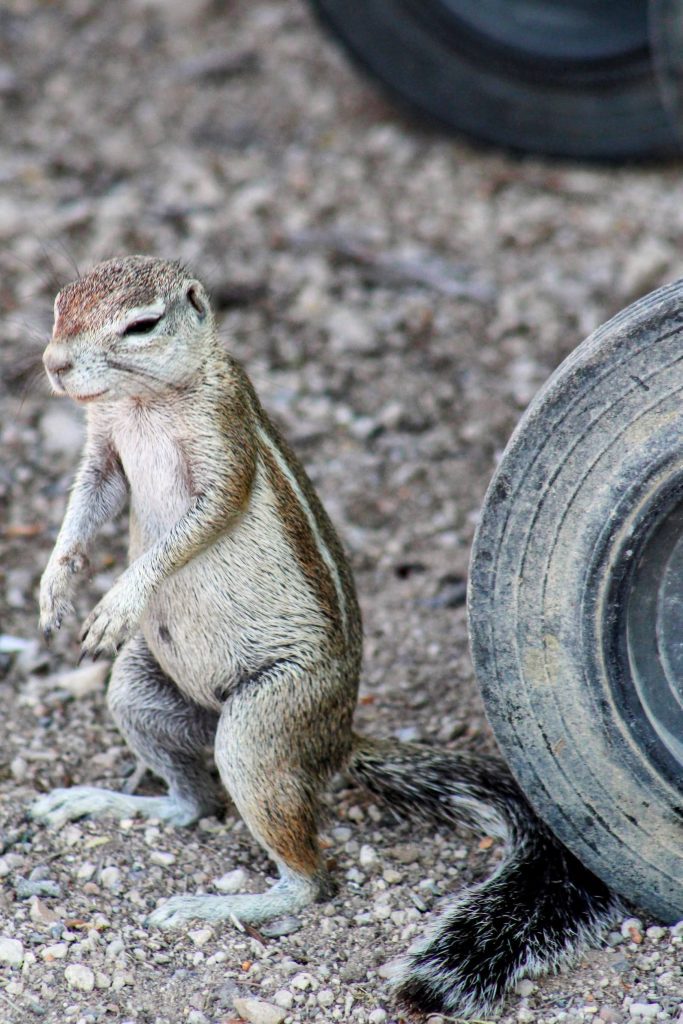 If you can choose your accommodation, then the park recommend you try out different locations each night. The official website gives some suggested itineraries to help travellers decide where to stay. Besides Okaukeujo, the other recommended site is Halali, which also has a waterhole.
I personally loved Okaukeujo and was happy staying there both nights. I would happily stay there again too if I ever return. The watering hole was fantastic and I could easily spend a whole day at it.
Night Drives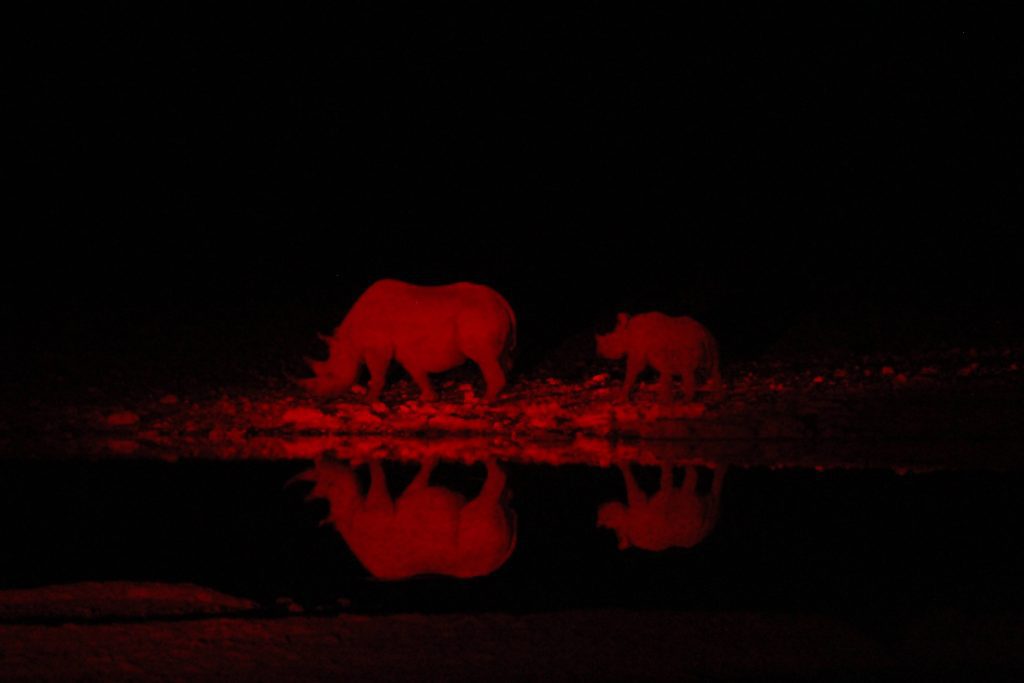 Although you can't drive at night, several camps offer official Night Drives. It costs 750 Namibian Dollars and lasts for three hours (7pm until 10pm). I was lucky enough I got to see several rhinos (including a baby one), hyenas, jackals and lots more animals. The guide spotted a wildcat twice, but unfortunately I couldn't spot it myself although others in the car did.
One issue with the night drive is that they have limited spaces – a maximum of 18 people each night (two cars that each seat 9 people). The group tour I was on had 22 people, and the first night we arrived there was only one space left. I happily took that one so that I wasn't going to be taking it after a long day in the park. This is another reason to spend at least two nights at Etosha, as it increases your chances of being able to get on the tour!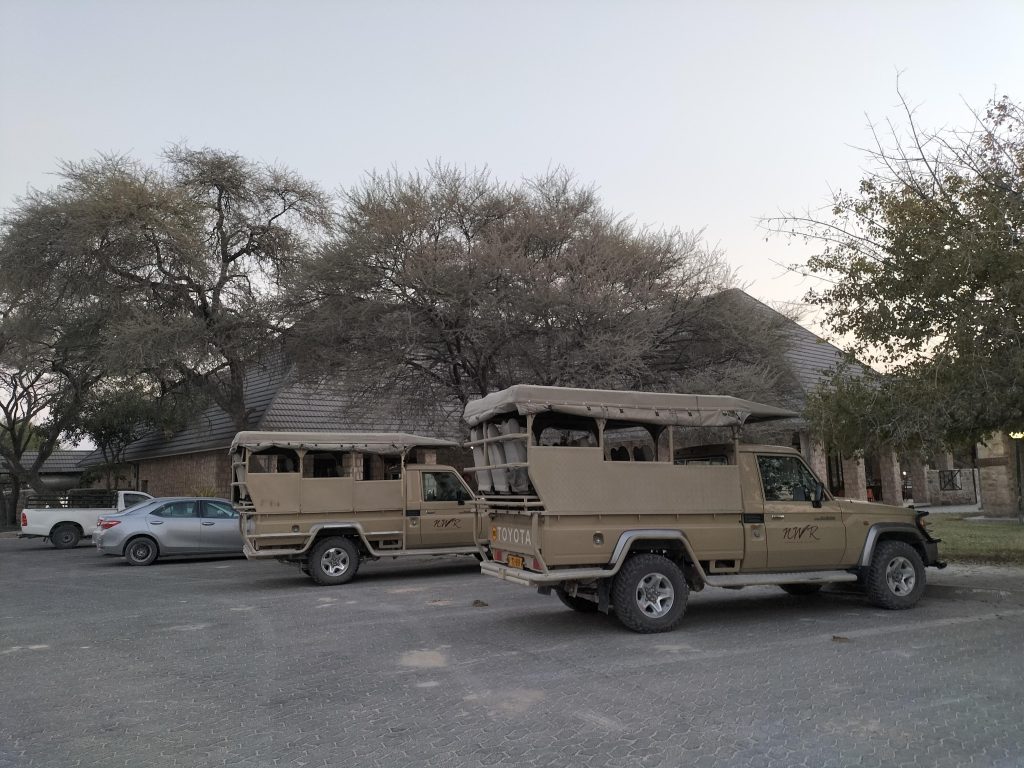 I recommend sitting on the drivers side (the right). This is because as you drive, they will shine a red light to locate different animals. Our driver said that if we were okay with it, he would ignore the more common animals in order to focus on the rarer animals. You are more likely to see predators at night and that was our main focus. Unfortunately we didn't see any lions. However some in my group went on the drive the second night and they saw one at the watering hole. It's definitely down to luck, but it was a great experience and I'm very glad I went on it!
The Watering Hole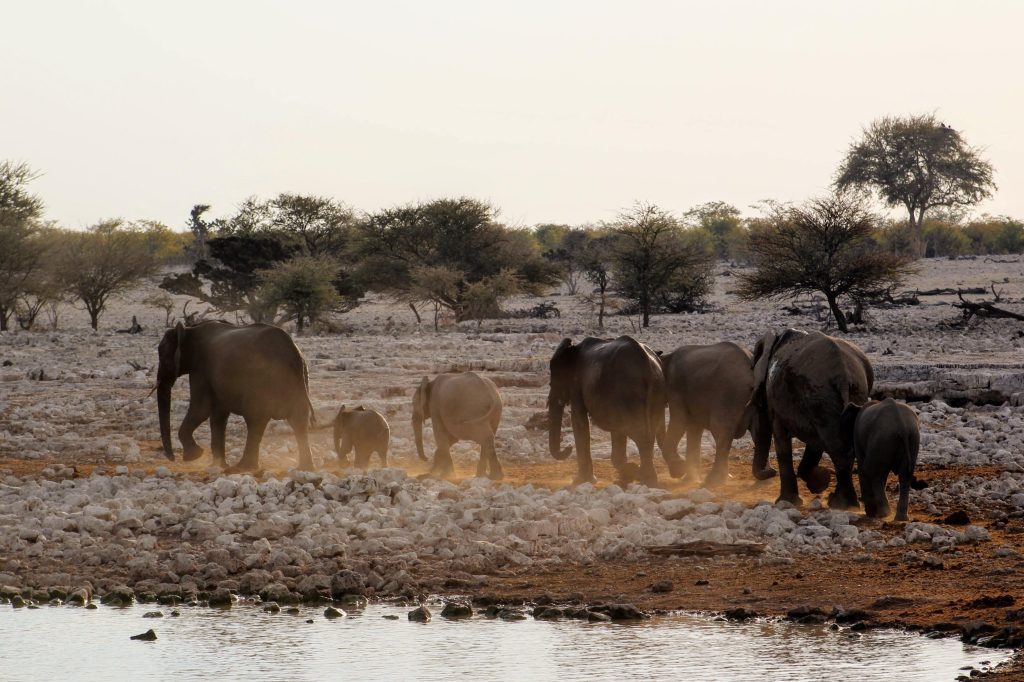 The benefit of spending two nights at Etosha is that you can spend one night on the night drive, and the other at the watering hole.
I spent the second night at the watering hole and was fortunate enough to see elephants, giraffes and rhinos. At one point, one of the rhinos even kept trying to mate with another one (who was not having it). They kept chasing each other around and fighting. I had the worst luck though as I finally dragged myself away at 10pm to shower, only to come out and discover that right after I left, a lion showed up! I'd heard the roars, but as the giraffes were drinking away I figured it was safe to leave. I heard the roars again near midnight but I was too snug to get out of my tent.
The first morning, one of the group got up at 5am and saw lots of animals at the waterhole. The second morning, a group of us all got up to see if we would have similar luck but at that point it was completely empty. I decided to go back to bed, while the rest stayed for almost an hour and saw nothing. The hardest thing about the watering hole is dragging yourself away. I kept thinking "Maybe if I stay a bit longer something else will come". It's even harder leaving when there are animals there!
Day Drives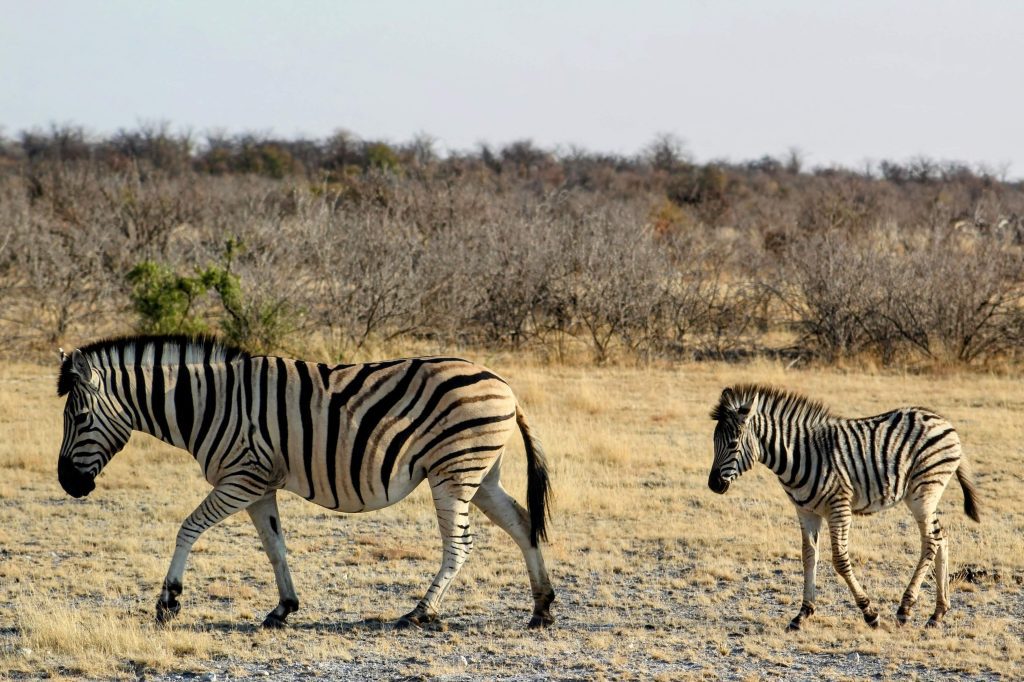 One good thing about Etosha is that it's entirely possible to drive around the park by yourself. However, all of us on our tour decided to go with booking a full-day tour as our tour leaders recommended them.
I personally think the tour is the better option, as you're with trained guides who are much better at spotting animals plus they are in contact with each other so if they see something exciting then they'll let everybody else know. They also know a lot about the animals that you see and so I learned a lot from them.
The park offer guided game drives, but our group got our tour organised by our tour leader. It was organised with an outside company, and we had to drive out of the park to meet them.
My Experience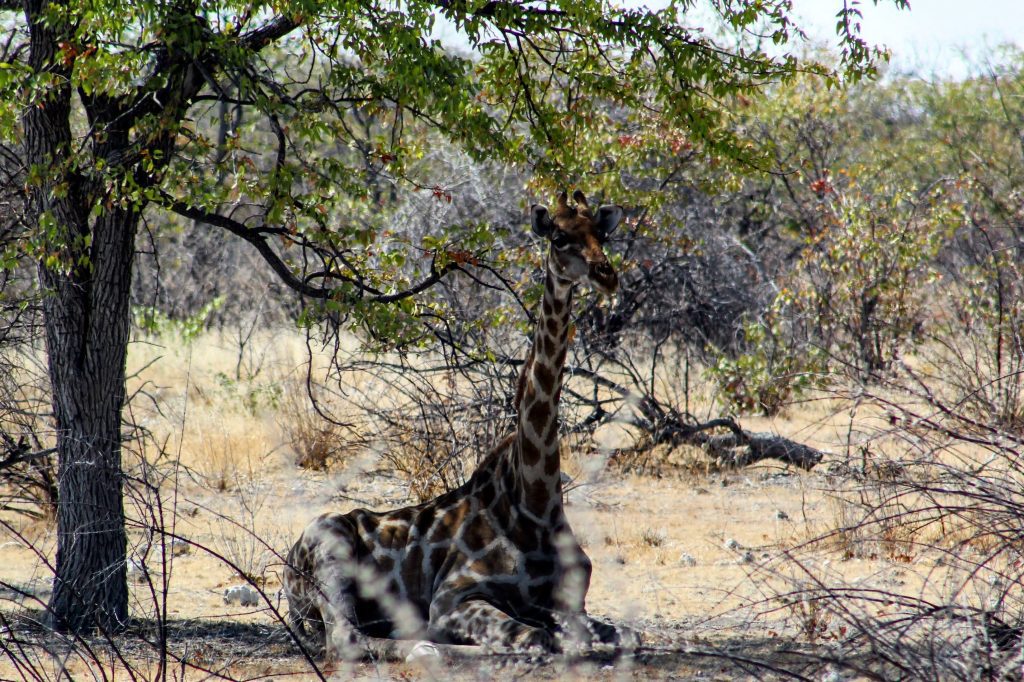 After meeting our guides and splitting into two groups it was time to set off! The first animals we came across were zebras – there are so many in the park! Then our guides got a call and sped off to see something special, which turned out to be lions. They were quite far away though, so needed binoculars to see. We also saw a lot of giraffes, blue wildebeest, springbok and ostrich. We made our way to a watering hole where we saw most of those animals all drinking peacefully together. At the next watering hole, we got to see some giraffes drink which was fascinating to watch.
We stopped at Halali for lunch (it was quite a long lunch, I would have preferred a much shorter one to then get back to our camp earlier). One thing I loved was that the campsite was full of greater blue-eared starlings, and I find them such beautiful birds!
After lunch, it was back for more driving! We saw a giraffe sitting down, which is quite uncommon. We then got very lucky and saw some rhinos. Then, we even got very brief glimpse of a honey badger. On the way back, we also drove to a viewpoint over the Etosha salt pan. It was so huge, and vast. After that, we made our way back to Okaukeujo and just before getting back we got a glimpse of a lone elephant. Overall the tour lasted over 8 hours so it was a very long day but definitely worth it!
Is Etosha worth visiting?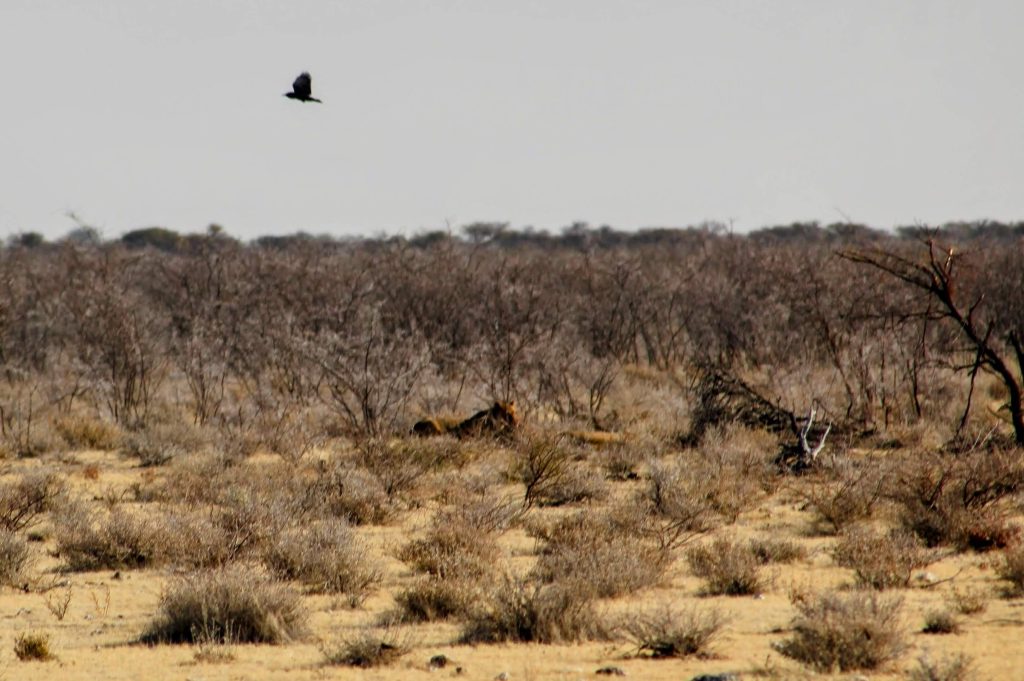 Etosha is a very large park, with lots of animals. Unfortunately, due to the size it means you can end up driving for quite a while between animal sightings. Having a guide will help, as they have incredible eyesight and can spot animals from a huge distance.
The distance from the animals is another issue with Etosha – having visited some smaller parks you tend to be able to get quite close to where the animals are. Due to how large Etosha is, if you see something in the distance then chances are you won't be able to get closer. You will definitely need binoculars and a good zoom lens if you want to get photos. If Etosha is your first safari experience then these are less likely to be an issue. I feel that my group was spoilt by how close we got to animals in Chobe, Botswana.
One advantage of Etosha is that is has a lot of watering holes. You have a very high chance of seeing animals if you visit those, especiallly in the dry season. They're spread quite far apart so there's a lot of driving between them. They are well signposted, so if you're driving yourself they are easy to find. The floodlit ones at the camps are also fantastic, and a great way to spend your evenings.
Conclusion
Although the long drives between animals were quite tiring, I absolutely loved visiting Etosha. It is definitely worth adding to any Namibia itinerary. Hopefully this post will help answer the question of "How long should you stay at Etosha". Two nights at Etosha is definitely enough to see the park but the days will be very long and busy: so three to four days would be recommended.
After leaving Etosha, if you are heading to Swakopmund then I definitely recommend taking a short detour to spend one night at Spitzkoppe.
---
Have you visited here before? Do you think two nights at Etosha is enough or would you recommend longer?