After an adventurous day white water rafting at Victoria Falls, it was time to relax in the evening with a lovely sunset cruise on the Zambezi river. Like the white water rafting, this activity can be done on both the Zambian and Zimbabwean side of the Zambezi. It's the exact same river, so again it doesn't matter which side you choose to visit.
Choosing a cruise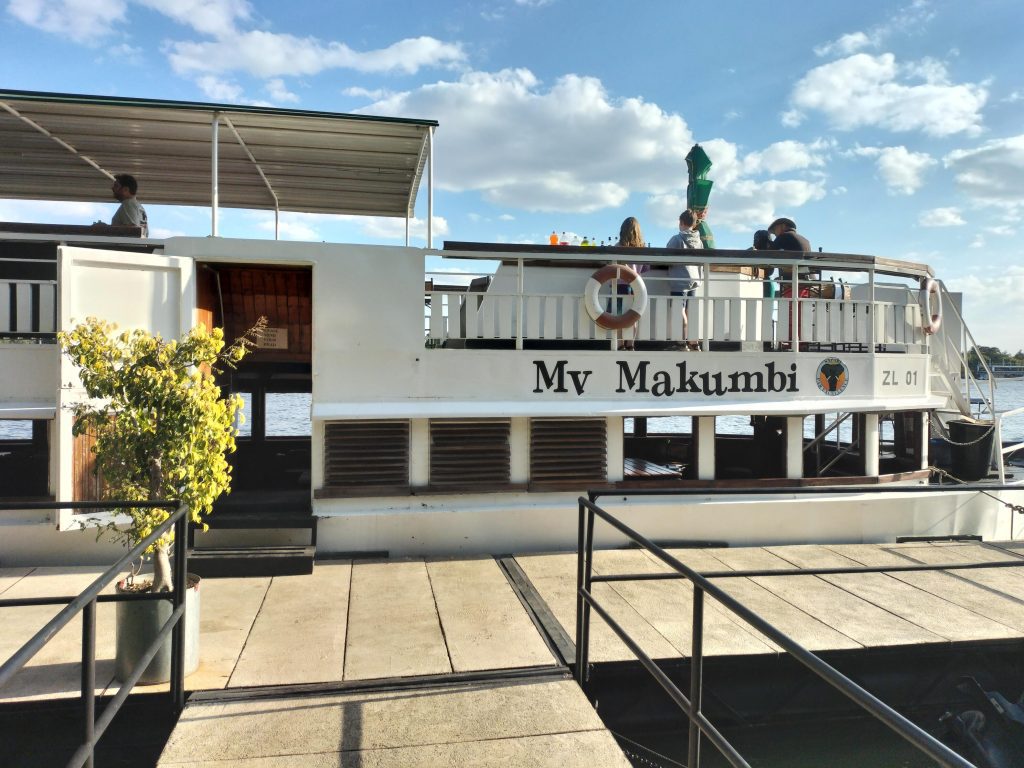 There are lots of different cruises you can choose on the Zambezi: they all follow a similar route with the main difference being the boat itself. The one I was on was the MV Makumbi, which has a capacity of 100. I would say we had less than half of that on the cruise which was nice, as it meant it didn't feel crowded at all. We received snacks when we boarded, and then later on a small dinner of grilled meat. My cruise also included an open bar (although since I don't drink, I just enjoyed my unlimited lime and soda water).
If you are doing other activities such as white water rafting, or going on a rhino walk in Livingstone, then it's possible to book a combo tour including the cruise. This is what I ended up doing, as it works out much cheaper than just booking the tour by itself. Our operator was fantastic, as the white water rafting took longer than expected so we didn't have time to go back to the hostel. But, when I said that I needed my jacket for the cruise, they organised a driver to take me there quickly at no extra charge. I was super pleased with that, since not only did I need my jacket to stop from freezing, but my camera was also still at the hostel too and I would have been very sad to miss out on all the great photo opportunities.
The Cruise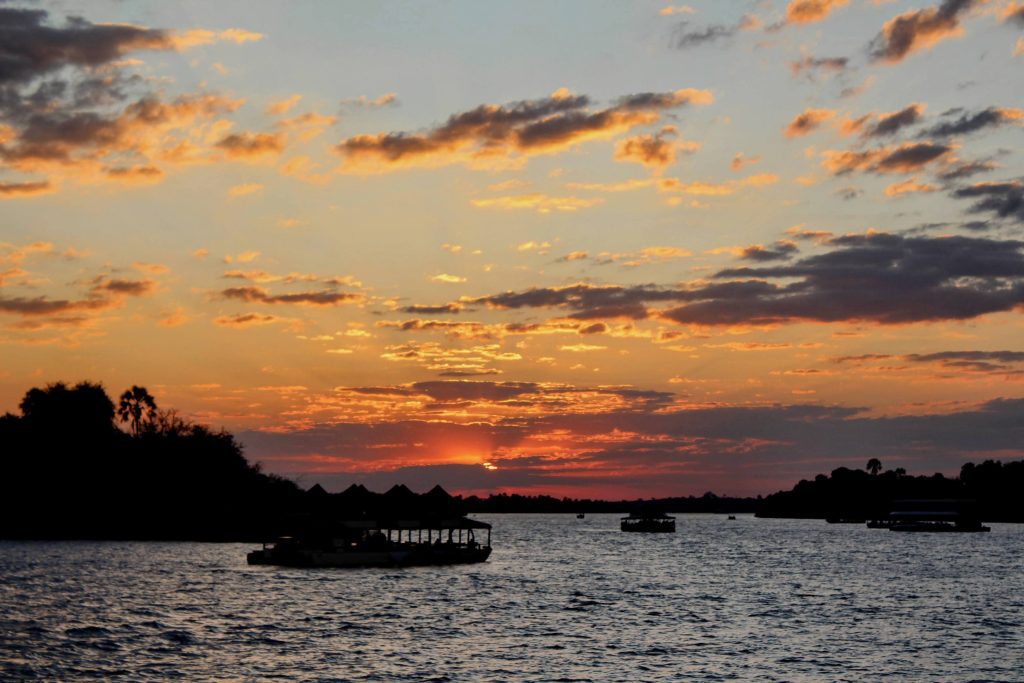 Although it's called a sunset cruise, most of the tour happens before the sunset. This is excellent for those wanting photography opportunities as by the end of the tour the light is not very strong, making it harder to get good photos of the animals.
The boat first heads upstream, circling around Siloka Island. I made sure to get a seat right at the front on the port side of the boat for the best photo opportunities. I ended up sat near a couple where the man was a keen birdwatcher, so he helped me spot a lot of the birds.
As I was sat so close to the bar, the bartender was our guide telling us about all the animals we saw. His ability to identify birds from a distance was very impressive. Many of the animals were also very well camoflagued and I definitely wouldn't have spotted them by myself. I highly recommend taking a zoom lens for this, or at least a pair of binoculars.
After circling Siloka Island, all the boats on the river gathered to watch the sunset on the Zambezi. It was a beautiful sight and totally worth the entire trip. After that, we made our way back to the dock. As we departed, I was able to get a few more shots of the sky, which was still beautiful.
It was then time to get our transfer back to the hostel. They had signs to help people get into the right transport, although I just followed the group of Belgians I had gone rafting with.
The Food and Drink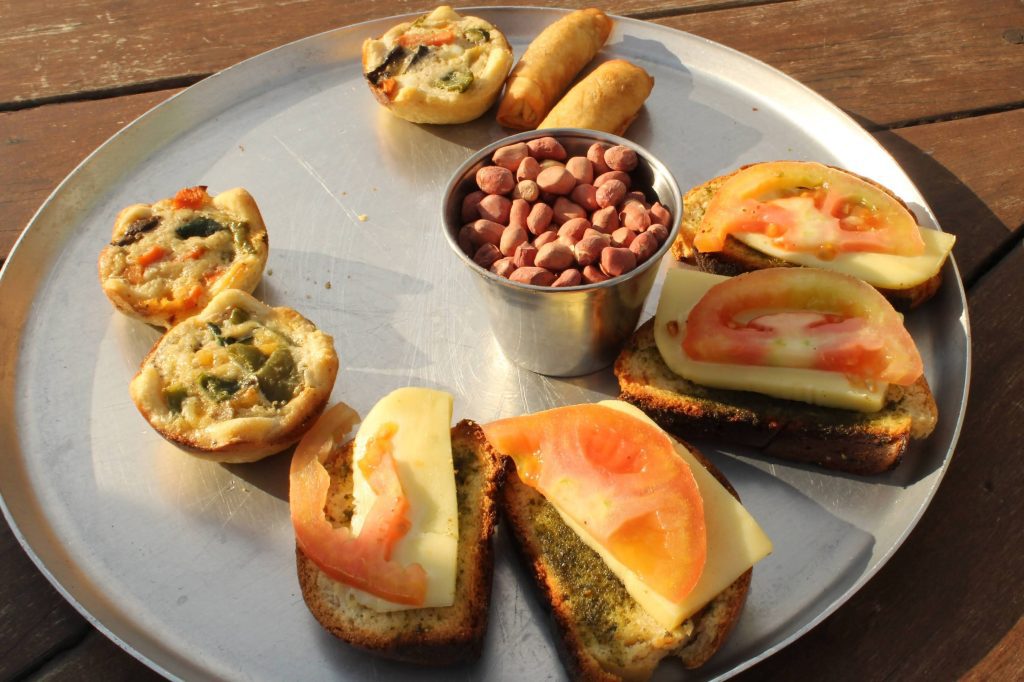 When I boarded the ship, the first thing I saw was the bar. They had a selection of different types of spirits, beers, wines and lots of soft drinks. I don't drink, so I stuck to flavoured soda water (I alternated between lime or passionfruit). It was an open bar, so you could have as many drinks as you liked. I was quite lucky as the others on my cruise were also there to enjoy the sunset rather than get drunk. I met some girls in my hostel who had gone on a different cruise where it was more like a giant party with everybody there for the drinks.
At the start they placed several snack trays around the ship: I shared mine with a couple nearby and there was more than enough food to keep us going until the main meal. It was just a small one – two pieces of chicken and one large sausage – but it was more than enough for me! There were also vegetarian options for those that don't eat meat. Most of the snacks were vegetarian too – the staff were great at letting you know what contained meat.
The Animals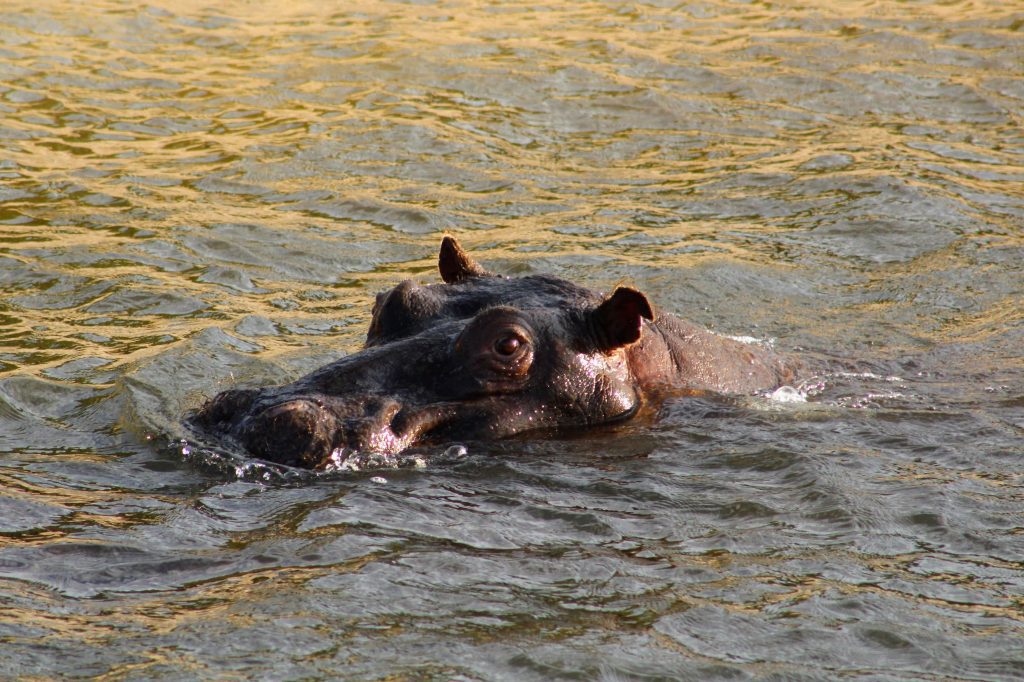 One of the very first animals we saw after departing was a hippo swimming in the water. It was at this point I realised that I would need my zoom lens and so quickly switched to it hoping that we would see more later on. I was indeed in luck, as we saw quite a few more hippos on the tour. They were all in the water, so every so often you'd see a head appear. I had to be very quick with my camera and keep watching the last spot I saw them.
Crocodiles were another animal we saw a lot of on the cruise. I hadn't realised just how well camoflagued they were in their environment, but every time the guide pointed one out it took me a while to spot it. The crocodiles were mostly just relaxing on the riverbank so was quite easy to get photos of them.
The animals we saw most on the cruise were birds. If you aren't a huge fan of birds, you probably will be by the time you finish this! I got really into spotting them and trying to capture good shots. I forgot to names of most of them, so had to look them up again later. We got really lucky and saw an African Finfoot – which is apparently very elusive – and it quickly ran away as our boat got closer.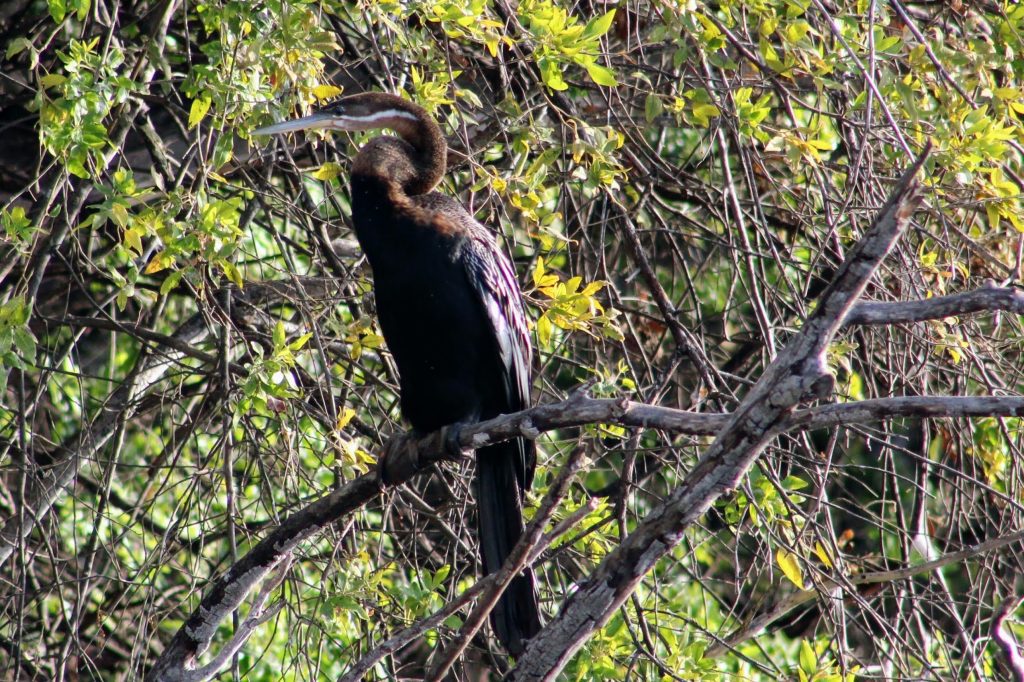 Is a Sunset Cruise on the Zambezi worth doing?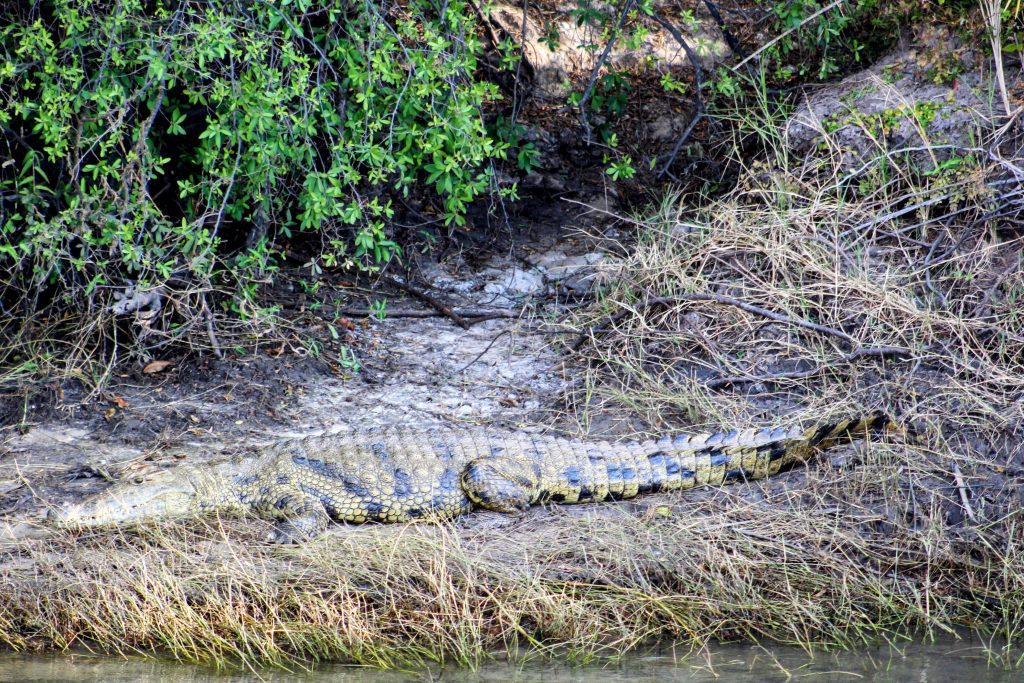 During our cruise, we didn't manage to spot many animals. We saw lots of birds, but aside from those we only saw crocodiles and hippos. I personally didn't mind this, as I'd already seen lots of animals when I went on my rhino walk. Seeing the hippos up close was a fantastic experience and I was delighted by all the birds. As with any wildlife experience, it depends on luck. If you want to see a lot, then I would recommend combining a game drive with the cruise. This will increase your chances of seeing more animals.
I went on another sunset cruise in Chobe a few days later and saw loads more animals, so if you've already done that one then you might be disappointed. However, the sunset cruise on the Zambezi included an open bar and food, while the Chobe one was BYOB. As the cruise was very cheap as part of the combo tour, I didn't mind not seeing that much. It was just relaxing to cruise along the river and the sunset was fantastic.
Overall, I would definitely recommend taking a sunset cruise on the Zambezi. This is an activity I would happily do again if I returned. I wouldn't book it just by itself though: it's definitely better value to combine it with another activity.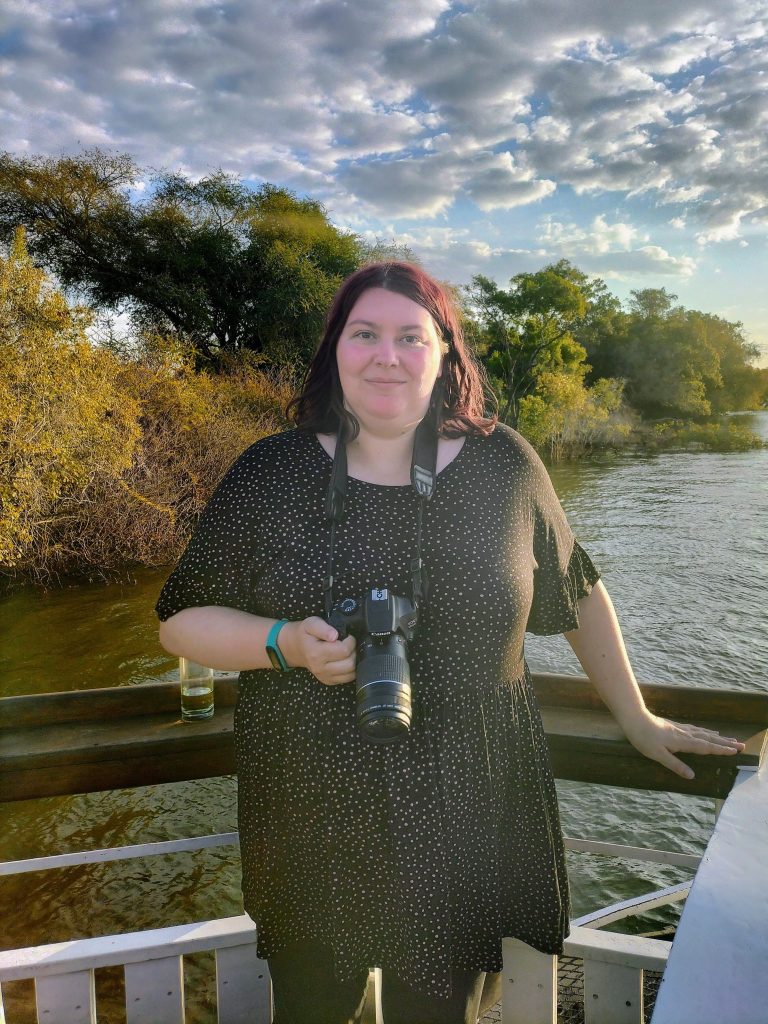 ---
Have you taken a sunset cruise on the Zambezi? Which side did you go from? Would you recommend it?