After a fantastic two nights at Etosha, it was time to start making our way South. Instead of heading straight to Swakopmund, we instead spent one night at Spitzkoppe to break up the journey.
We arrived early in the afternoon giving us plenty of time to explore the fantastic landscape, with a relaxed start the next morning giving us a lie-in and a chance to view the sunrise.
What is Spitzkoppe?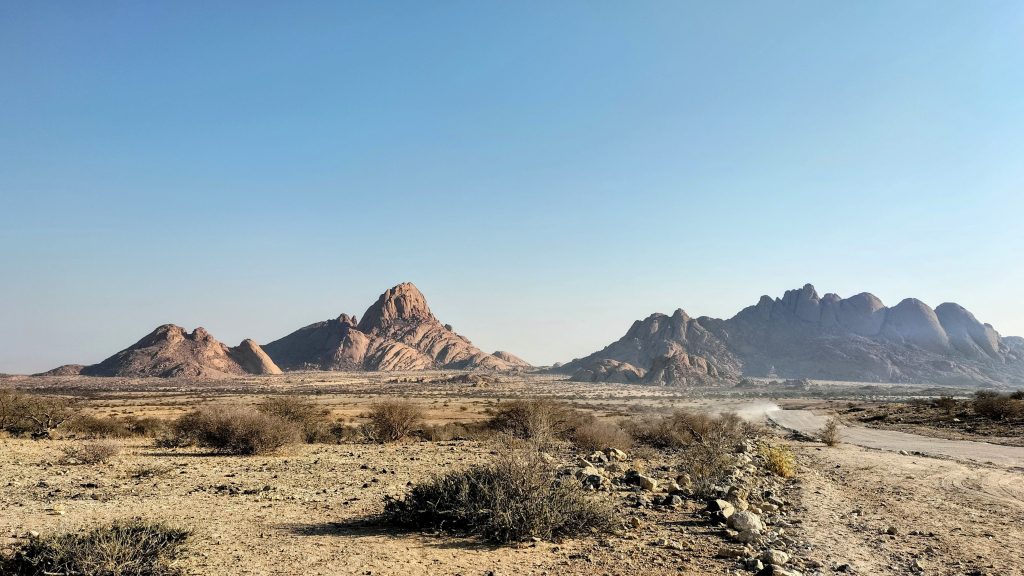 Spitzkoppe, meaning "Pointed Dome" in German, is a group of granite peaks located North of Swakopmund.
The surrounding desert is very flat, which makes these peaks stand out a lot. The tallest one is 1,784m high with the rest ranging in height.
It's possible to camp right amongst the peaks themselves at the Official Spitzkoppe Campsite – the facilities are quite basic but the scenery more than makes up for that!
Rock Art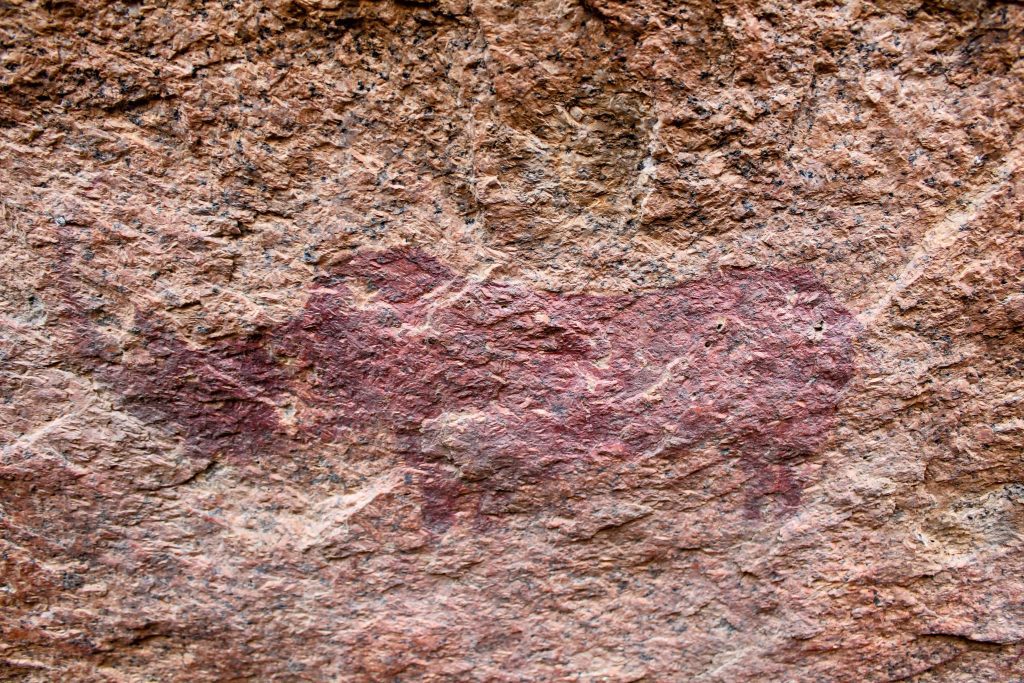 On the side of one of the peaks is a small collection of ancient cave paintings done by the indigenous bushmen of the area. As they are exposed to the elements, they are quite faded however they are still definitely worth visiting.
You cannot visit them by yourself, you need to be accompanied by a guide. Apparently there isn't a set schedule so when we arrived, our tour leaders checked whether there were guides available. Luckily for us, they were running tours that day. The tour itself worked on a tip-only basis, so make sure you have cash on you.
Climbing Spitzkoppe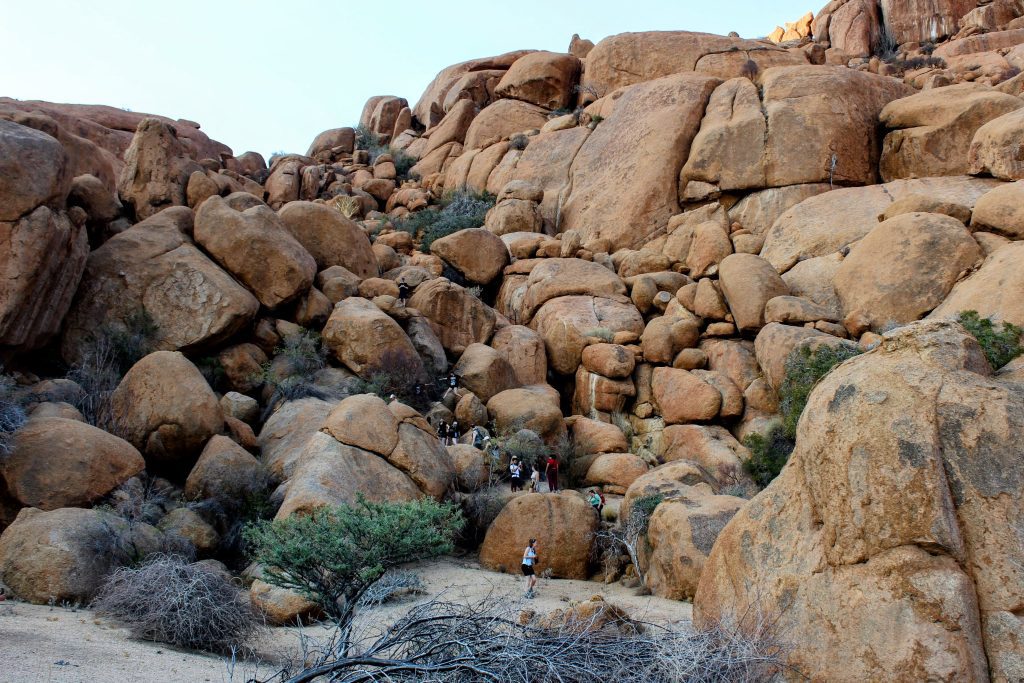 After visiting the rock art, our group decided to climb up of the nearby peaks. There aren't any set routes up (at least not where we were) so we just picked a spot and started climbing. However, when I say climbing I mean actual climbing rather than hiking. We were having to scramble up boulders and squeeze through gaps in the rocks. After doing this for a little while, a group of us decided that we were going to turn back. As much as I love climbing, the rocks were very sharp and it was quite painful on my hands. If we had more than just one night at Spitzkoppe, then I would have happily tried again with gloves. Because it was getting quite late, though, I didn't think I'd have time to go back for those.
Be very careful if you choose to climb one of the larger peaks – it takes a lot longer to get down than it does to go up! Two young guys in our group climbed one of the larger peaks: it took them an hour to get up but two hours to get back down! By that point, the sun had set so they were having to descend in the dark. Luckily we could see their torches shining up on the peak; so when we noticed they were missing, we knew where they were!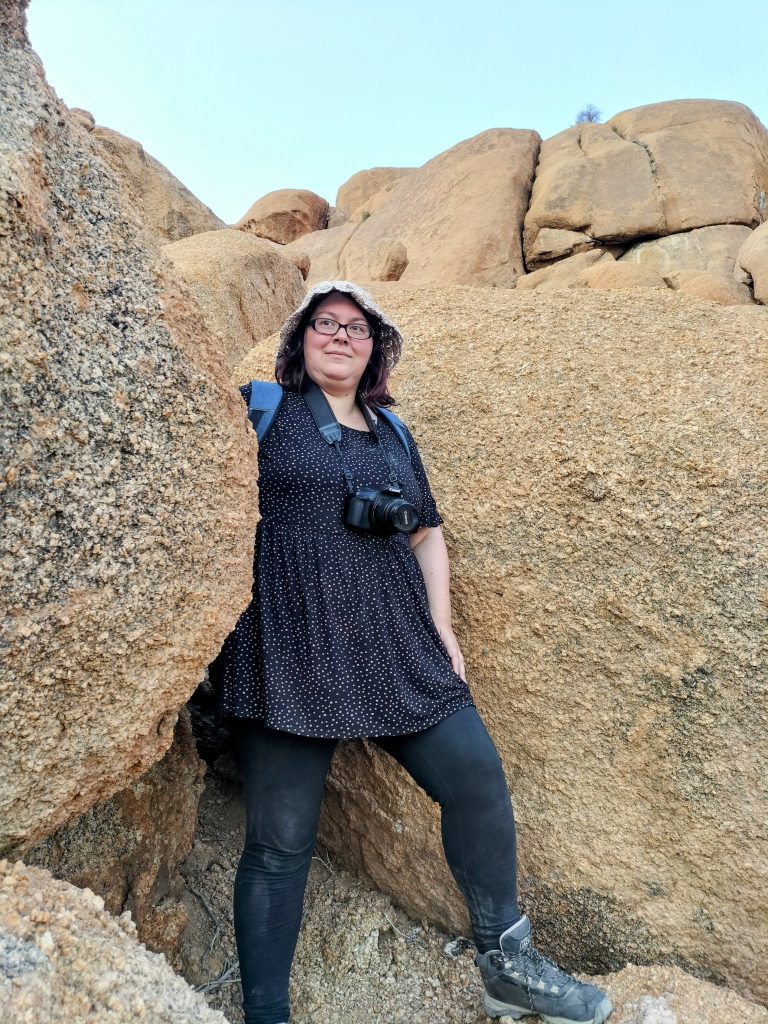 The Arch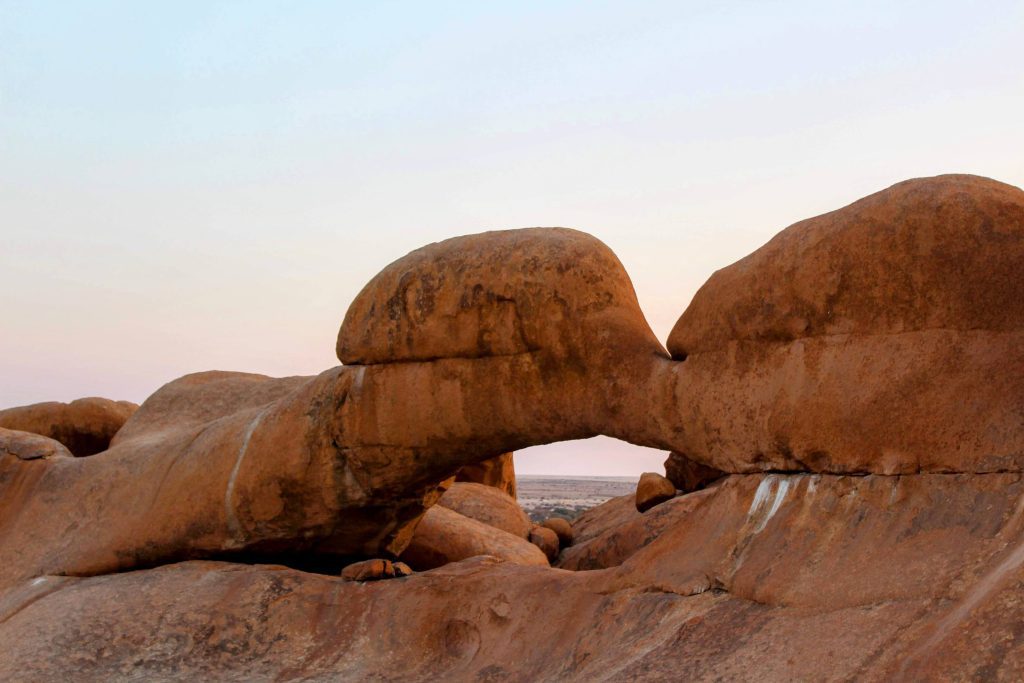 There is an arch in Spitzkoppe that was recommended to us as a stunning photo spot. I've seen some truly beautiful photos online: if I'd looked at those before visiting then I definitely would have stuck around for longer to try and get some good shots once the sun went down!
The arch itself is quite easy to reach – it was a short, flat, walk from the campsite then requires scrambling up a steep slope to reach it. It wasn't particularly challenging, and once up you can get some lovely views. To get back down, I gracefully sat on my bum and slid down the steeper sections.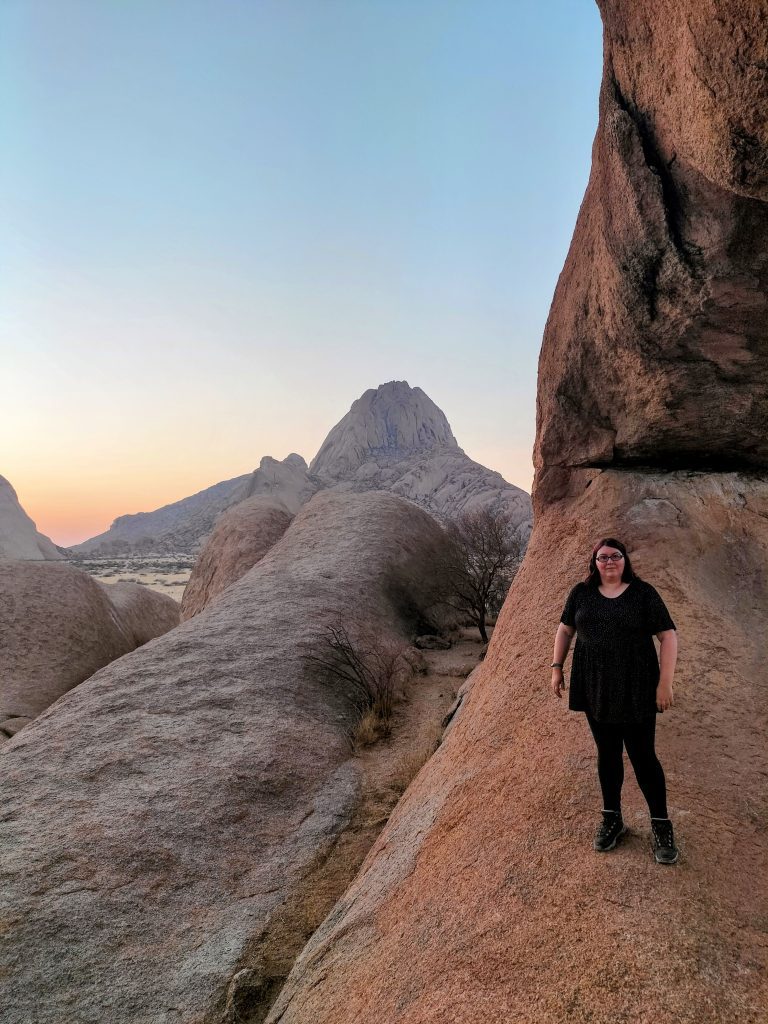 Sunset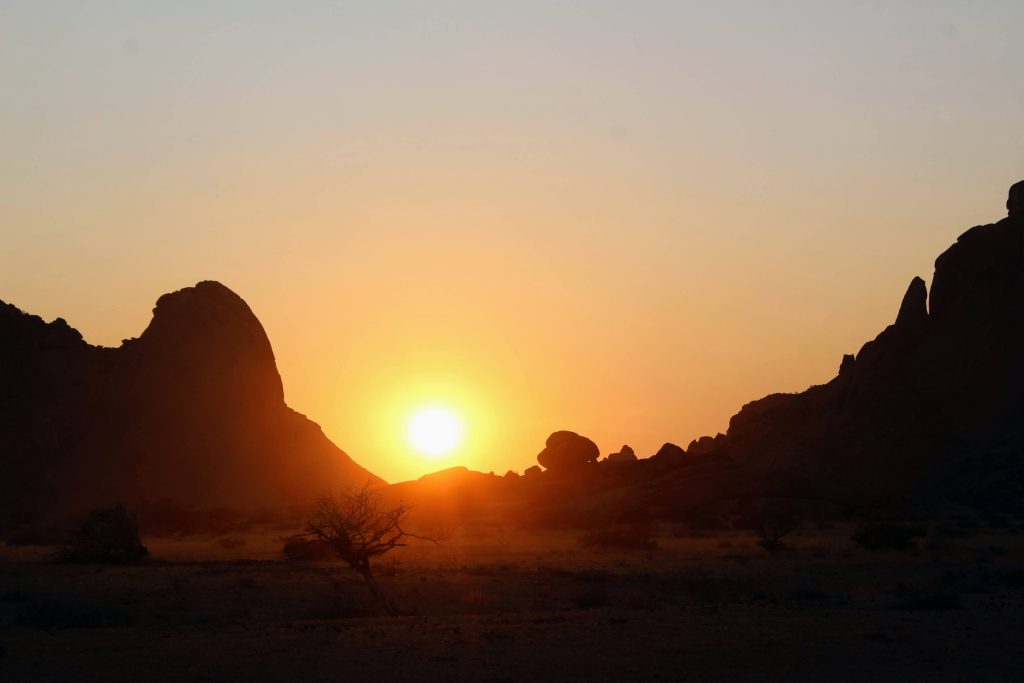 The sunset here was absolutely stunning. I recommend finding a good spot where the sun will set between some of the peaks. I watched it from the arch at first, then took some more photos on the way back to the campsite.
Around the campfire, our guides told us how Fluoride was known as "Bushman's Fireworks" because if you throw it on a fire, it will sparkle and explode like fireworks. He brought out some that he'd bought earlier, got us all to step back and tossed it into the fire. It was really cool watching them "pop" and glow.
Once the sun has fully set, then you are in for an absolute treat with the night sky. The star gazing opportunities are brilliant, with such stunning clear skies. Some of the Australians on my tour taught me how to identify the Southern Cross, and we had a lovely time around the campfire just gazing up at the stars.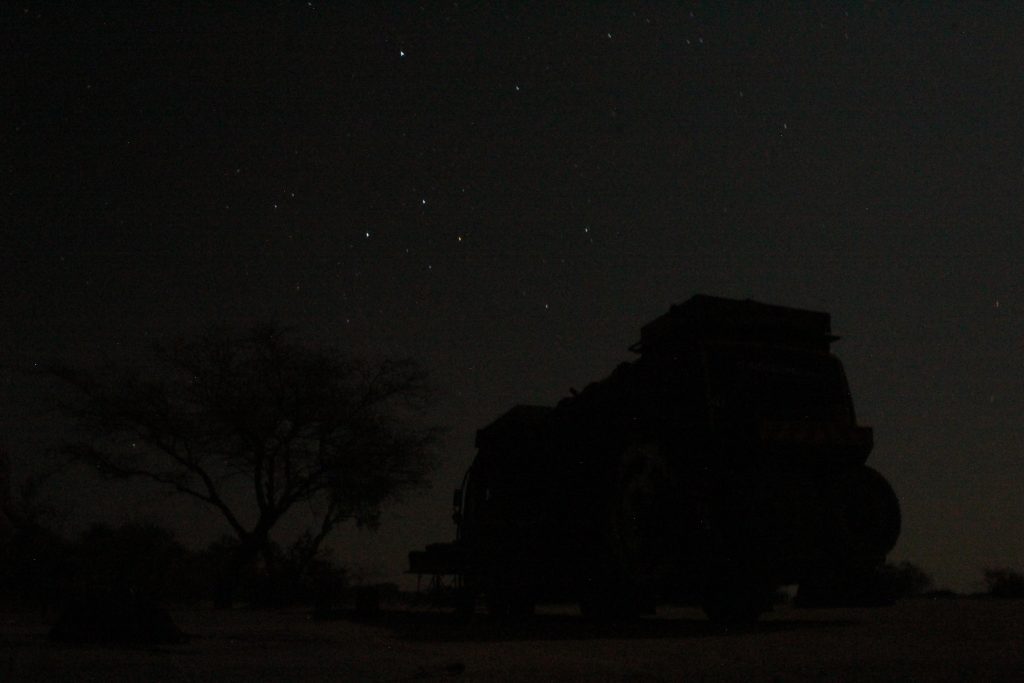 In the morning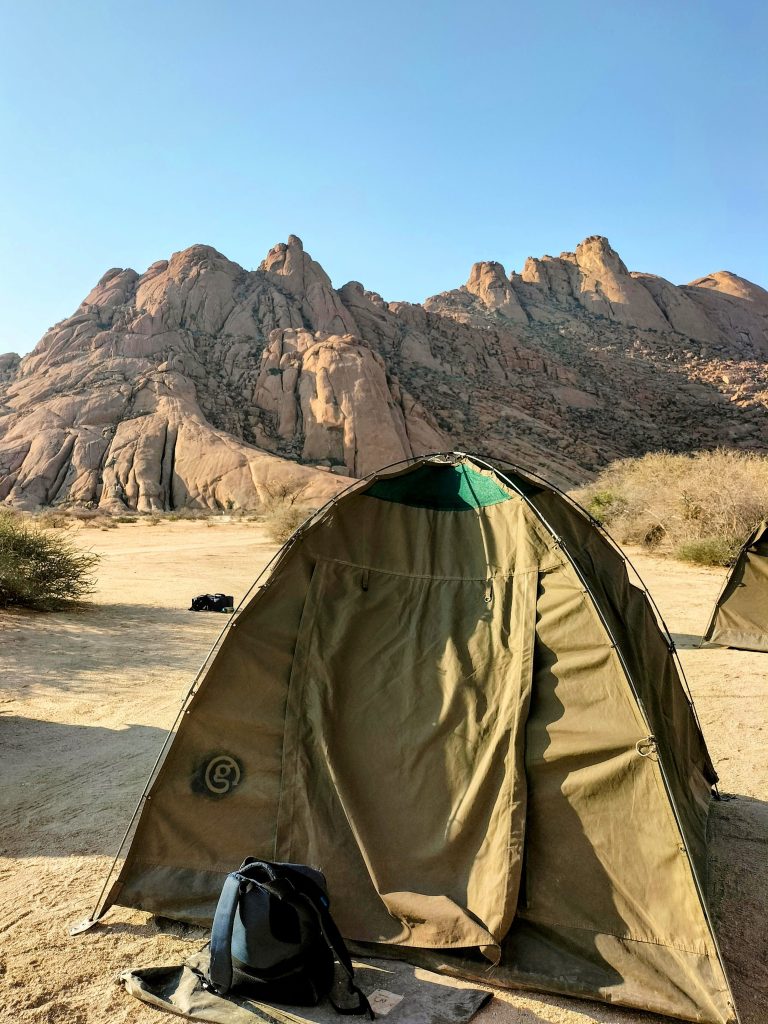 After spending one night at Spitzkoppe, it was time to get up early for our drive to Swakopmund. Quite a few of our group chose to get up early to watch the sunrise, but as many of the campsites have slopes to the east it meant having to hike up one of them to get a good view. I'm not a morning person so I chose to stay in bed a bit longer.
After leaving Spitzkoppe, we stopped briefly at a tiny collection of souvenir stands at the roadside. These are run by local women and sell a large variety of minerals and stones. The prices are extremely cheap, so I highly recommend buying some if you have cash on you. As this is their main form of income, our guide asked us to try and not haggle – I paid 100 Namibian Dollars (just over £4) for a necklace that I loved and that seemed to be the standard price. They had earrings and lots of loose rocks so if you love gemstones then make sure to take a lot of cash with you!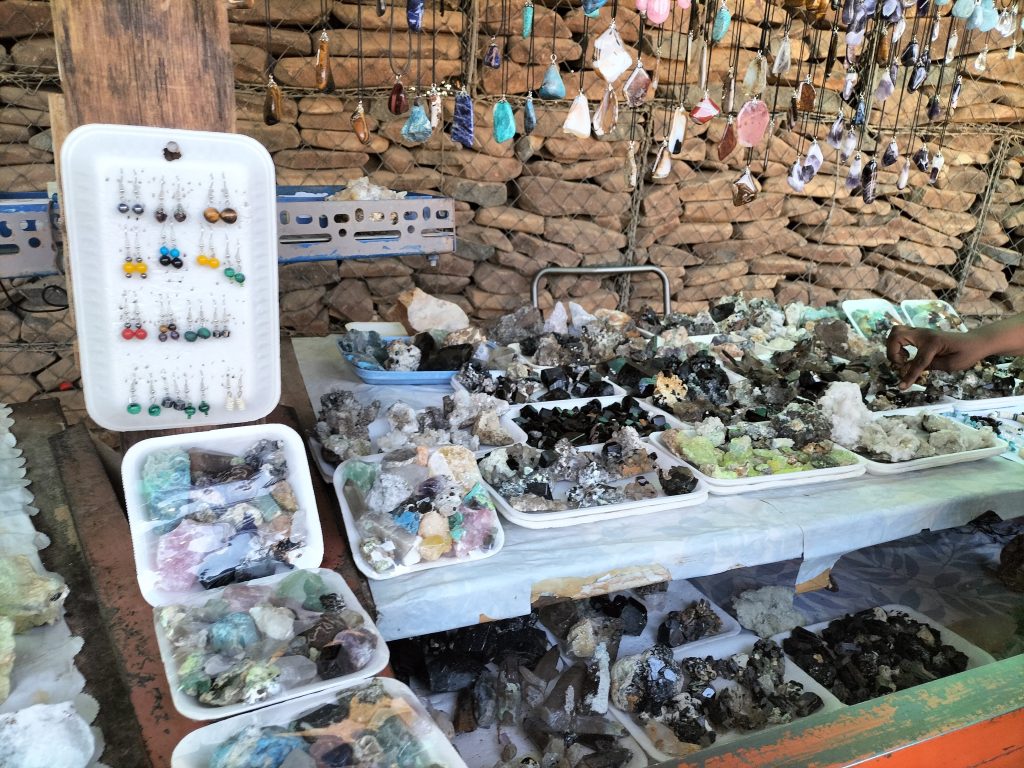 ---
Are you interested in spending one night at Spitzkoppe? Check out my other posts on Namibia to help plan your trip!