I'm a huge cat person and so I once I learnt about it, I had to visit Harbin's Siberian Tiger Park. I saw some posts online about how it was cruel and "gruesome", but those seemed focused on the "feeding of live animals" which I personally don't have an issue with. Although I'm not a fan of making it into a spectacle for tourists, it does help them afford the feeding costs for the tigers. After looking up other things to do in Harbin, it looked the most interesting to me and would give me an excellent chance to use my zoom lens and try and get some nice photos of the tigers.
The Siberian Tiger Park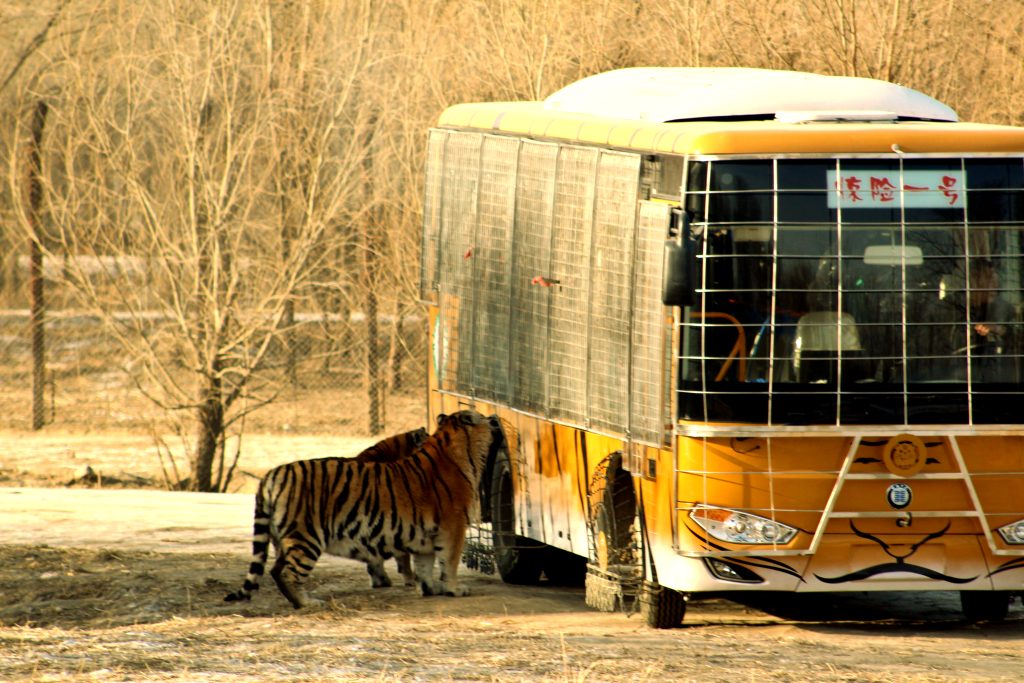 Upon arrival at the park, you are greeted with some cheesy statues of tigers scattered around the entrance, along with several stalls selling tiger related merchandise. There are several signs including one with a list of prices for visitors. The list includes prices for purchasing live animals for the tigers, which is the main complaints people have. You are able to purchase live animals to be fed to the tigers which a lot of people find inhumane. Guests are also able to purchase a bucket of meat and some tongs to feed the tigers themselves.
The park consists of two areas – one is the huge outdoor enclosure and the other is a viewing area. Included in your ticket price is a bus ride around the park. The waiting area for the tour buses contain some displays about tigers, but unfortunately, the information is only in Chinese. Once a bus is ready, you join a small group and make your way onto the bus. The bus is covered in protective bars which makes it slightly harder to get photos, so pick a good spot!
Nobody in my group had chosen to purchase live animals so our tour just consisted of driving through the park. Every so often the bus would pause so we could get photos, or to wait for some tigers to move. The sections are separated by large automated gates which gives the feeling of being in Jurassic. I really enjoyed the bus ride as it gave you a sense of just how large the park is.
For more information about the park, including up to date information about prices and opening times, you can check Travel China Guide which is what I used when planning my trip.
The Viewing Area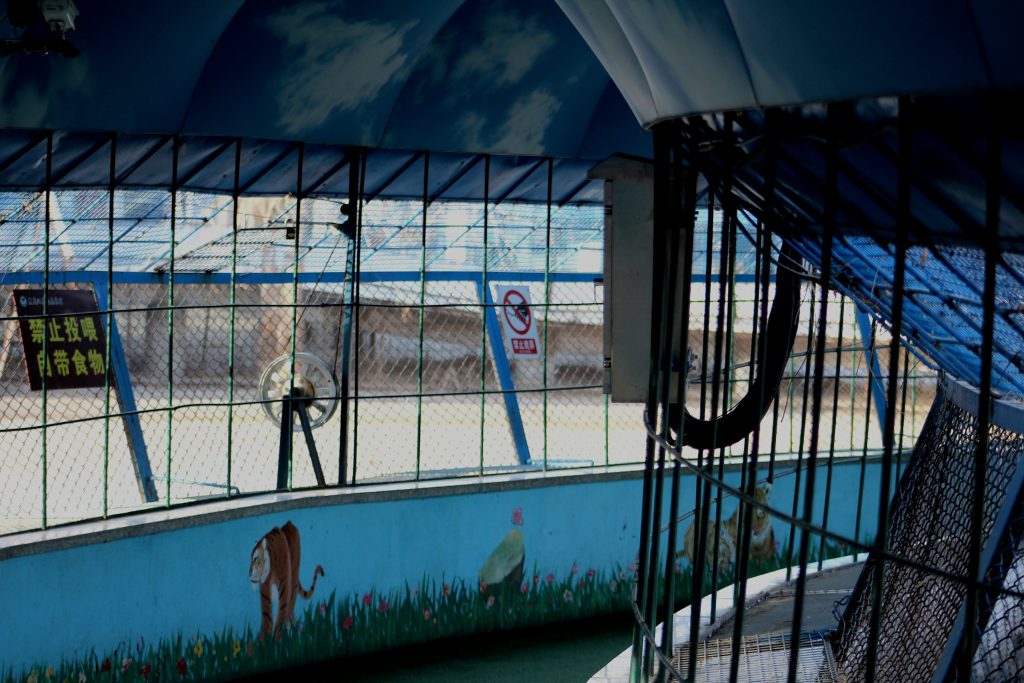 After the bus ride, you are then free to walk around a viewing area which includes a platform that juts out above two of the large enclosed areas. There was a long corridor area that looped around some small concrete enclosures.
The platform that juts out gives you the best view of the tigers in the park. Unfortunately, it's above some very small enclosures which don't look very pleasant for the tigers. Several of them disappeared inside while I was there for feeding so hopefully they have more space inside the building. The rest of the viewing area also didn't look very entertaining and definitely seemed for the benefit of us tourists. While I was there, quite a few of the sections were empty with only a few containing tigers. This was where I saw several other tourists with the buckets of meat, feeding the tigers.
The Siberian Tigers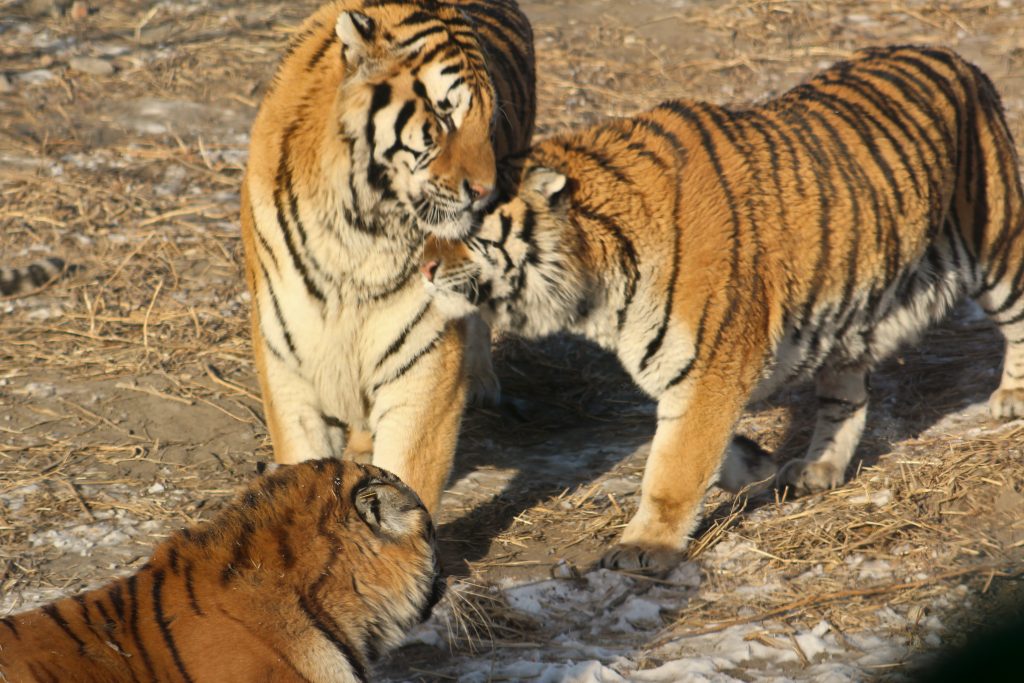 So, half of the reason for writing this post was simply to share some of my photos of the tigers. Look at how beautiful they are! There are so many tigers in the park that you'll have plenty of opportunities to get photos.
Although the name is the Siberian Tiger Park, there are several other large cats there including lions and a panther. The park has several white tigers, along with an information sign in both Chinese and English. The sign explained how white tigers are not a rare species, but are a genetic mutation. I loved the fact that they made this clear to visitors as the breeding of white tigers is often unethical.
Planning and Budget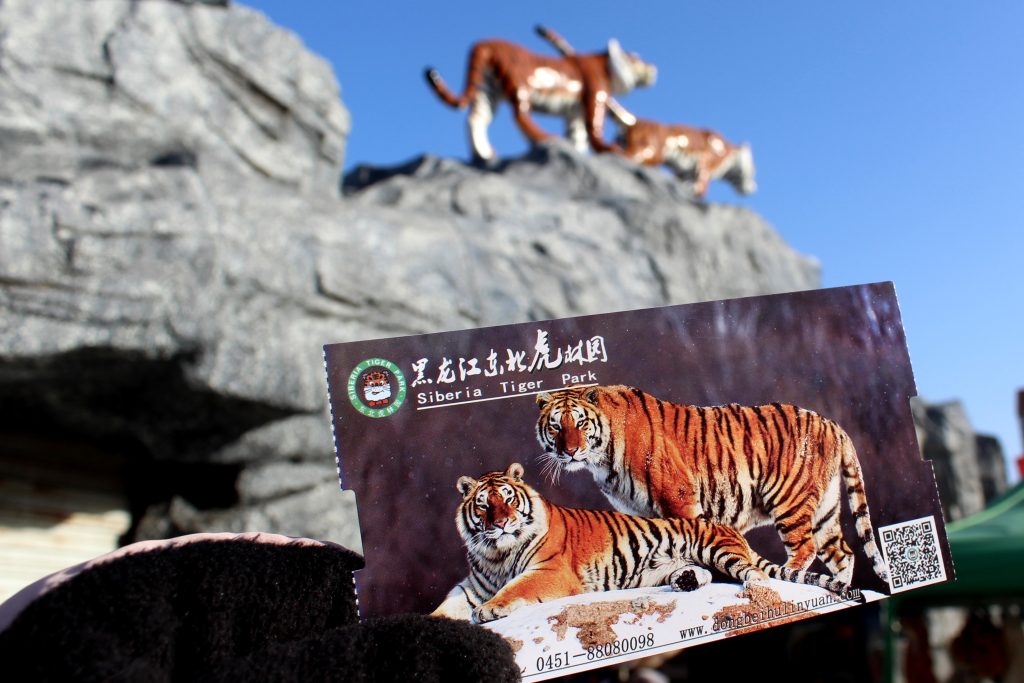 To get to the park there are several different buses you can take, however as I visited in January I opted to take a taxi to stay out of the cold. I had no issues getting a taxi there and back and it cost roughly 30RMB per trip. Once at the park, my entrance ticket cost me 110 RMB.
In total, it cost me 170 RMB for my visit there, however taking public transport would reduce the cost. There were also lots of tiger related souvenirs, and of course the opportunity to buy the meat, which could increase your costs.
This might not have been the cheapest place to visit, but if you have some extra time in Harbin then it's definitely worth a visit, especially for those interested in animal photography.
---
If you enjoyed this post, you can click here to read more about planning a trip to Harbin.
I was not sponsored or compensated in any way for this post. All opinions and photos are my own.