When I returned from North Korea, one of the main questions I received was 'How easy was it to visit North Korea?' and 'Did it take a long time to arrange?'
Despite what people might think, it's actually surprisingly easy to visit North Korea as a tourist (providing you aren't South Korean or American).
To visit, you must go with a tour company. The cheapest option is to go on a group tour, but they will also organise private ones for you. Once you arrive in North Korea, you will have two Korean guides plus a driver that will accompany you at all times. They even stay at the hotel with you as you are not allowed to explore unaccompanied.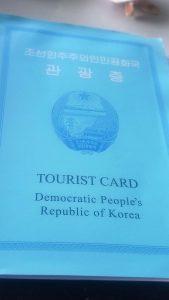 How long does it take to organise the trip?
When I got back, my coworkers were asking me how long I'd been planning this. Did it take ages to get permission? They thought I'd been planning it for months but it took me less than 2 months from when I sent off my initial e-mail.
Once I'd confirmed the trip I wanted to take, I only had to fill out a couple forms and pay my deposit. That was it! The company I was with took care of the rest. All that was left for me to do was read the guidelines on behaviour in North Korea.
Getting into North Korea
There are two options for entering North Korea – the train or the plane. I personally chose the train which takes around 24 hours from Beijing. The flight is with Air Koryo and from what I've heard, it's just like taking any other international flight.
My main reason for choosing the train was the fact that it was significantly cheaper, but also because I wanted to see as much of the country as possible. The train gave me an excellent opportunity to do that, especially as it was very slow.
The first part of the journey involves taking the train from Beijing to Dandong on the overnight sleeper train. This was my first experience on a Chinese Sleeper train and it was actually rather comfortable. It did take me a while to actually get onto my bed though as I was on the top bunk.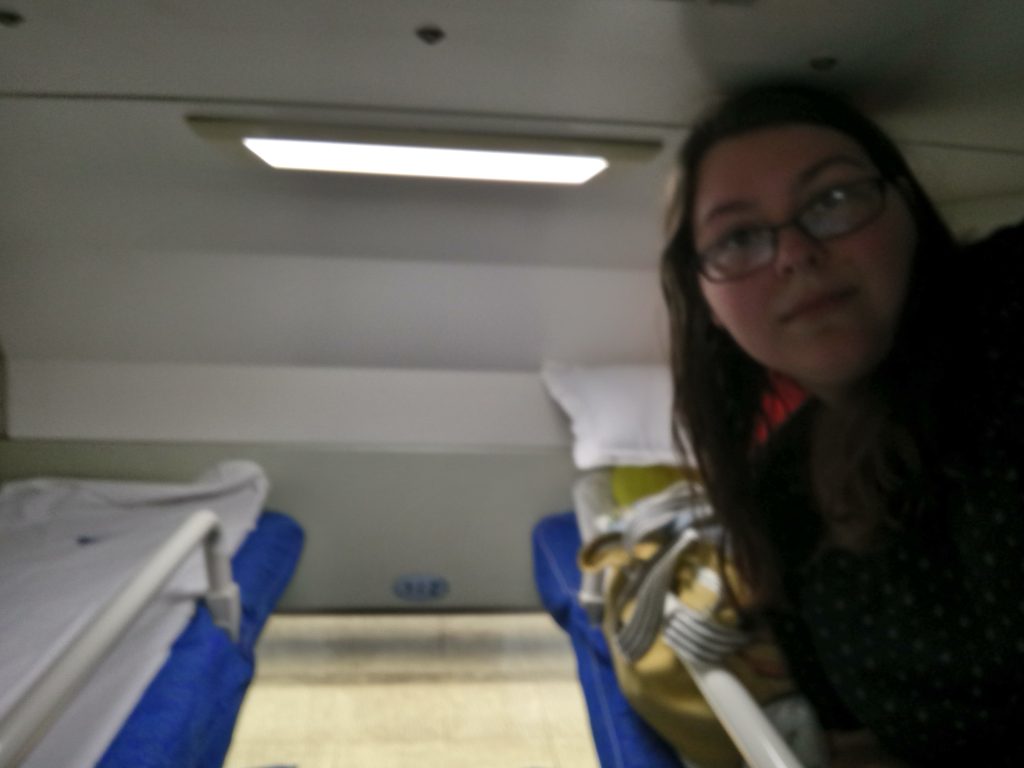 Once we reached Dandong the following morning, we had a little time to stretch our legs and so most of us took a short walk to the river which is the border with North Korea. As it was still early, the air was slightly misty and so gave the opposite bank a slightly mystical feeling and you could feel the excitement in our group knowing that soon we would be crossing the river ourselves.
Crossing the border
Back at the train station, we went through the exit process for China and boarded the train to Pyongyang. The train was surprisingly busy, not just with tourists but also with lots of North Koreans themselves returning from trips to China. We were on the train for 10 minutes as it crossed the bridge and then once we were in Sinuiju, the North Korean border town, we stopped for customs. This stop takes 2 hours and so we were free to get off the train and walk around on the platform. I bought my first North Korean beer here to enjoy on the train.
After that, it was back on the train for another 4 hours until we arrived in Pyongyang. We were met by our North Korean guides at the station and taken out for our first meal.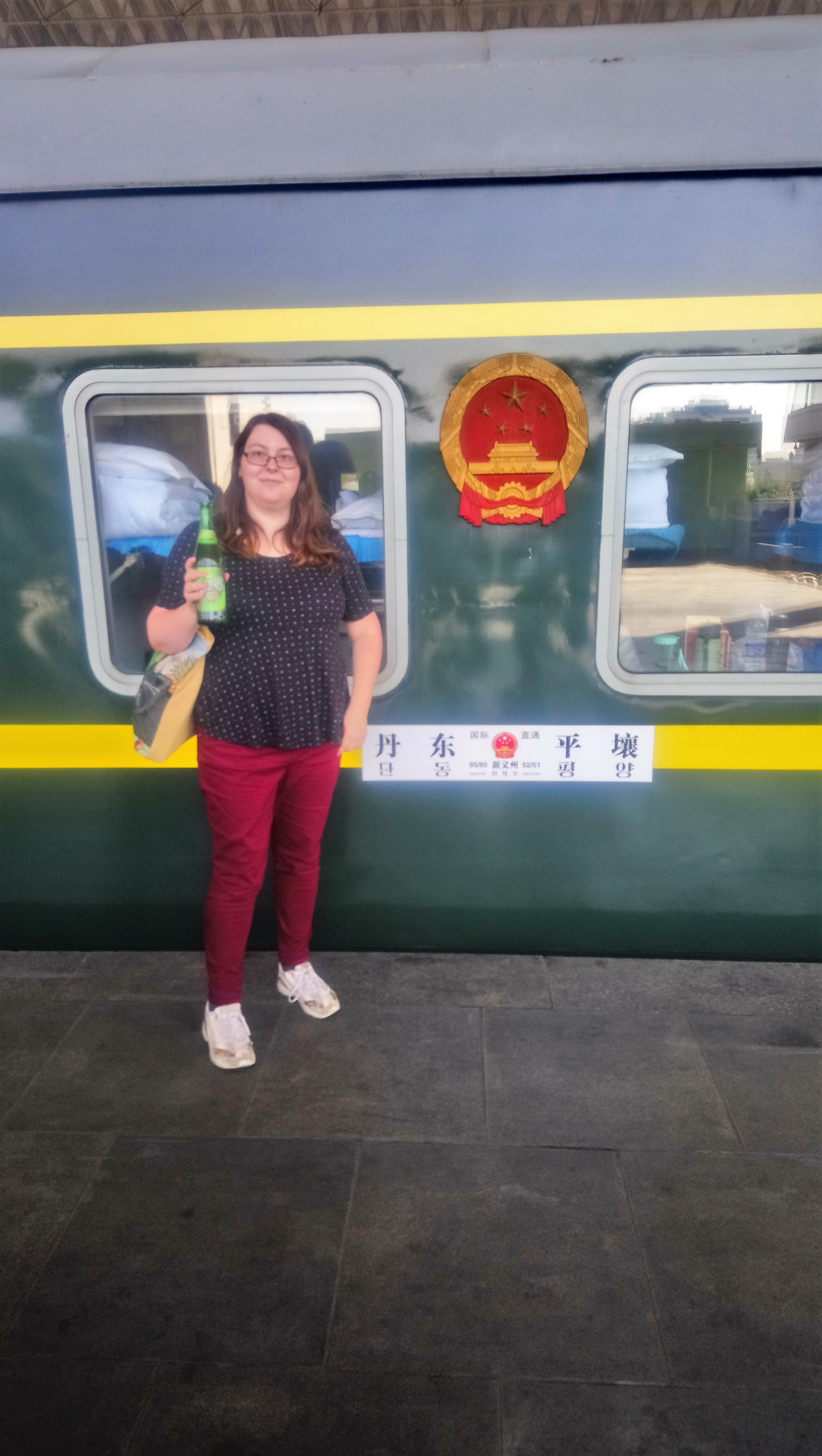 What are North Korean customs like?
Despite the many conflicting reports I'd read online, customs turned out to be incredibly simple. We had to inform them of what electronics we were bringing in such as phones and cameras and they also wanted to check all books to ensure none were bibles but other than that they didn't bother us at all. Our bags weren't searched and we weren't questioned, we ended up spending most of the time just waiting around. 
When leaving the country, the process was almost identical. They might check your camera but that didn't happen to anybody in our group. We were also warned that they will confiscate any North Korean currency they find but again we weren't searched.
What company should I travel with?
This is completely up to you, as it depends on what you want out of your trip. I recommend looking at the itineraries of the different companies and using that to help you decide. My time off was limited to a specific week and so I chose Young Pioneers as they had a tour that ran the exact dates that I was available. I was very happy with my experience with them and our guide was excellent.
One thing I would mention is to check to see whether the company sends along a guide with you or not. Not all of the companies will send a Western guide. Having a guide from Young Pioneers along with our Korean guides definitely improved the trip a lot.
Is it really that easy to visit North Korea?
It really is that easy to visit North Korea! For most people, the hardest part about this trip is likely going to be acquiring a Chinese visa. As I lived in China and had a residence permit, I didn't have to worry about that. The process for booking the trip was very smooth and this has been one of the easiest trips I've ever taken. The company does everything for you so it requires almost no preparation at all.