As many of my followers know, I love books. Therefore, when visiting Porto it was obvious that I had to visit their famous bookshop! It regularly is listed as one of the most beautiful bookshops in the world, and is very popular. Luckily, there is a way of skipping the queue at Livraria Lello that not everybody knows about!
Because the shop is popular with tourists, they had to introduce a fee for visiting the shop. You need to buy a ticket for 5 euros, which can be used as a voucher against the cost of any book in the store. This means that it's still essentially free to those purchasing books. There is no time limit, either, so you are able to browse the books for as long as you want.
Outside Livraria Lello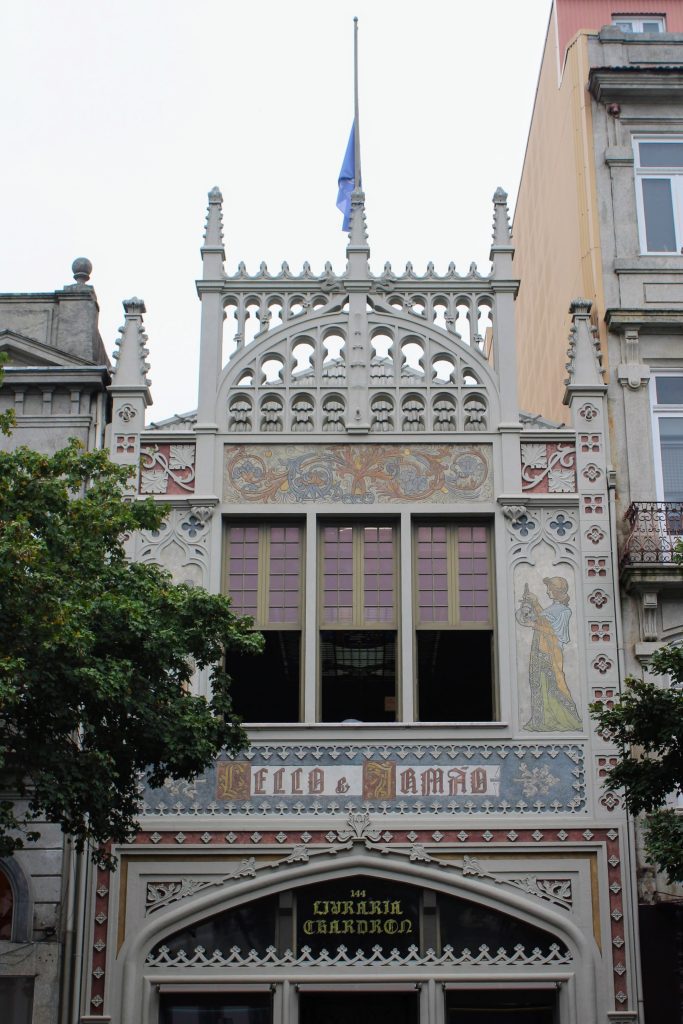 My first view of the shop was on a walking tour of Porto. It was easy to identify because of the large queue of people waiting outside to get in.
Our guide explained how she felt that it really should be considered the most beautiful, as the other bookshops on the lists are all converted from already beautiful buildings (such as a theatre) but Libraria Lello was built as a bookshop.
The façade has two figures that represent Art and Science and the words "Lello e Irmão" meaning Lello and brothers.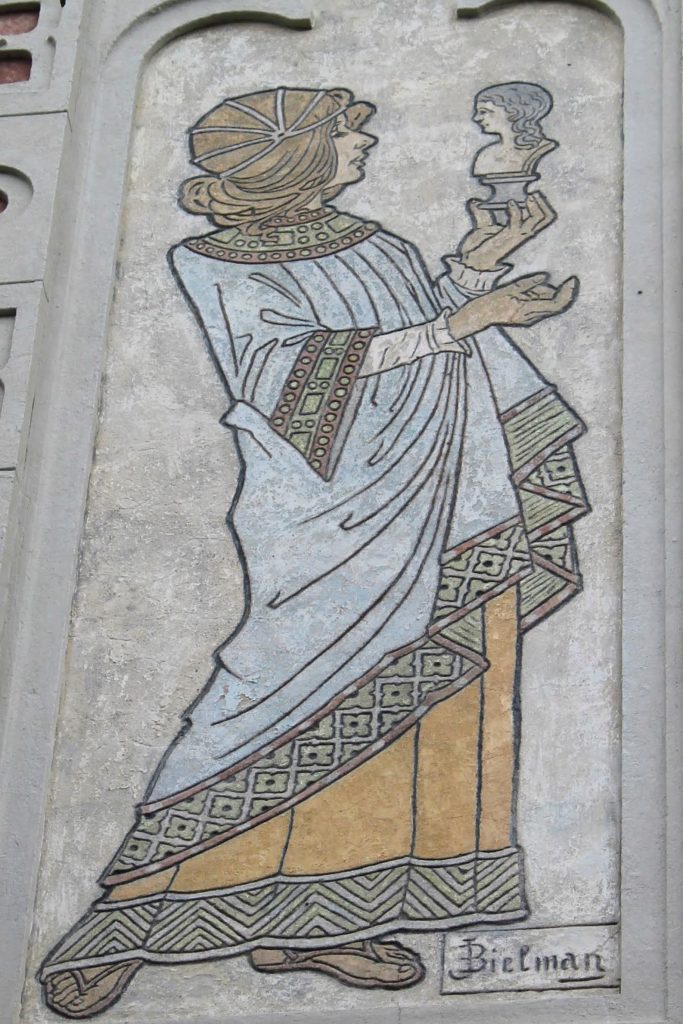 Visiting the Shop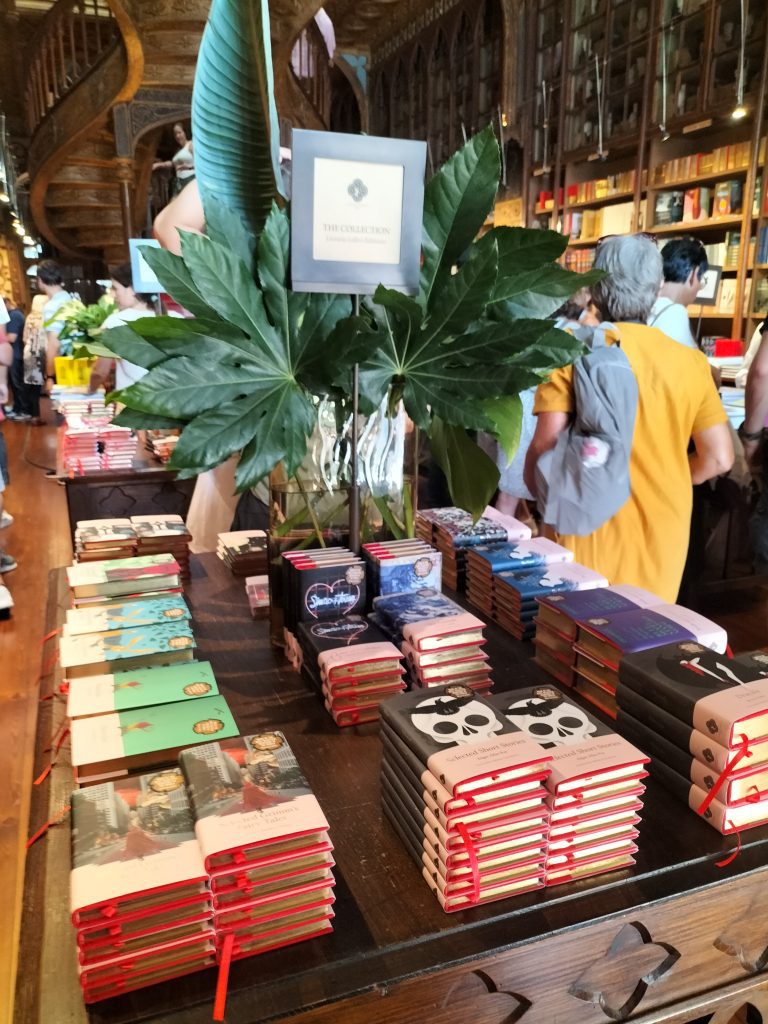 Although you might think that turning up right as it opens might be a good way to beat the crowds, lots of people have the same idea. The store is open from 9:30-7:00pm, and my guide recommended visiting in the afternoon, after 5pm.
I visited at 3pm, and there was a medium sized queue, but it wasn't as bad as I'd seen the previous morning on my walking tour. Of course, I was planning on skipping the queue at Livraria Lello, so the size didn't really matter to me at all!
There are several ways to get into the shop – the first being to queue and buy a ticket in person. This will take the longest amount of time, and I wouldn't recommend it unless you really like waiting or can't buy one online. You can buy your ticket directly from their website which will give you a time slot.
However, I did neither of those things. Livraria Lello have their own exclusive collection of books and purchasing one of them gives you priority entrance. This meant that I simply walked up to the door and showed my order confirmation allowing me to skip the entire line.
I ordered The Lusiads as my book, as I plan on using it for my Read Around the World challenge. However, there was a nice range of books to choose from. When I entered the shop, they told me that I didn't actually have to get the book I'd ordered. I could use my ticket for any book and just pay the difference in price. This is really useful if you change your mind, or prefer to browse in person.
Inside Livraria Lello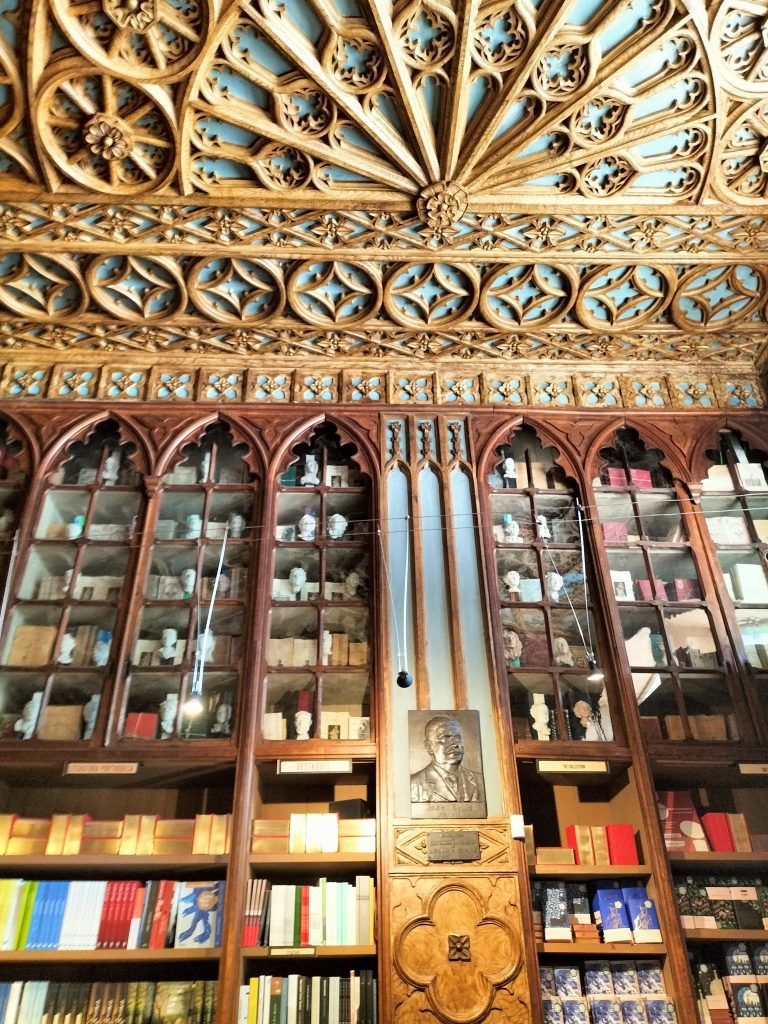 Upon walking into the store, the first thing that I noticed was the impressive staircase that dominates the shop. This is what has made it so famous, and was rumoured to have inspired Harry Potter. Even though that isn't actually true, the shop has a large selection of Harry Potter books at the back.
The walls are full of beautiful books, and above those are glass cabinets with lots of old books on display. Don't forget to look up at the gorgeous stained glass roof! The centre shows the motto of the bookshop "Decus in Labore," meaning Dignity in Work. It was designed by Samuel Van Krieken; however during restoration they added a tiny smiley face to it. I didn't know that at the time, but spotted it later in my photos!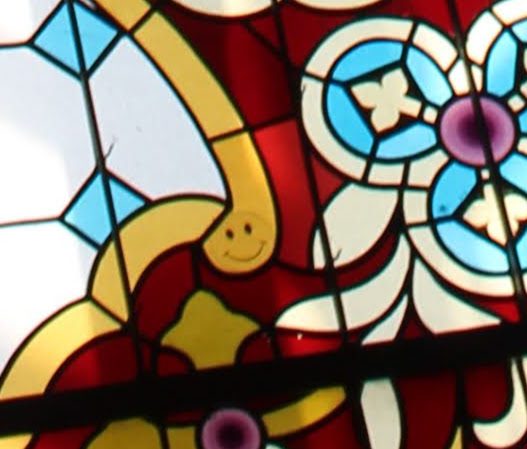 Is Livraria Lello worth visiting?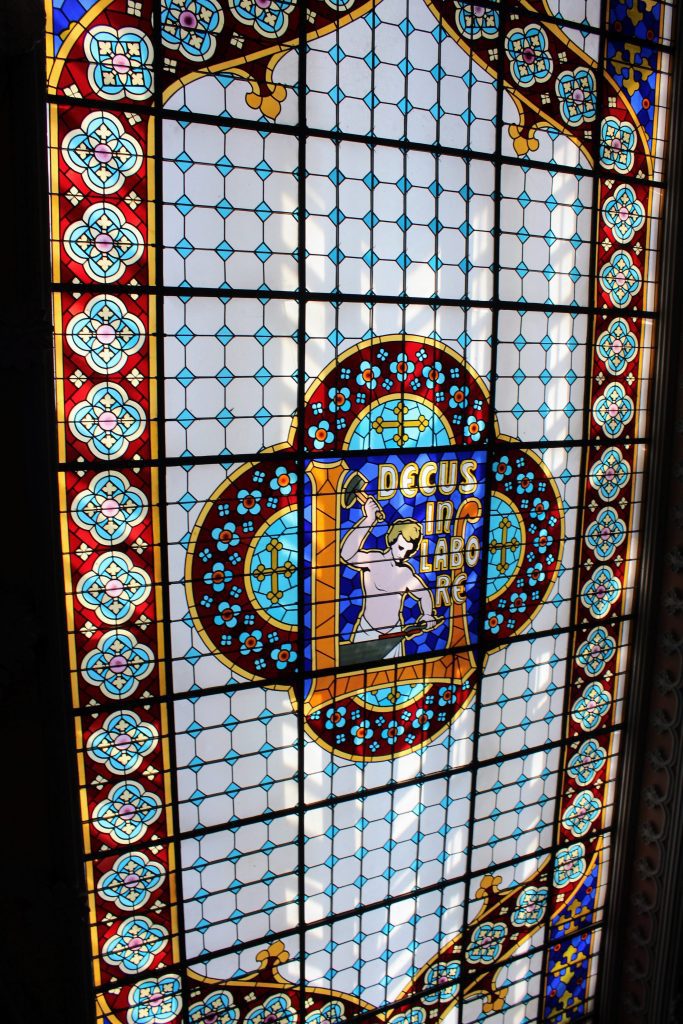 I love books, and love gorgeous bookshops, so to me this was 100% worth visiting. However, given the 5 euro entry fee, if you aren't interested in buying a book then it is quite expensive to visit.
It can also be quite busy, so if you're looking to get some great photos then make sure to go really early to try and beat the queues but you might end up waiting for quite a while to get a shot of the staircase without anybody on it!
---
What do you think about skipping the queue at Livraria Lello by buying a book? A good plan, or a waste of money?