On my trip to Nîmes, I decided I wanted to spend more time in nature, as I had spent a lot of my previous trips hopping around lots of cities. That meant that taking a day trip the the Camargue was ideal as it got me out of the city, and I got the opportunity to see lots of wildlife. As I was travelling on a budget, I wasn't sure if it was worth paying for a tour to the Camargue but I'm really glad I did. Hopefully this post will help you decide if it's also worth it for you!
Most of the information I found online recommended hiring a car to explore at your own pace: however, I don't drive. As the Camargue is such a large area, public transport isn't really an option. You can get a bus to Saintes-Maries-de-la-Mer, but that doesn't get you up close with the wildlife. For that reason, I chose to go with a tour company so that we would have a guide that could take us to all the best spots.
Tour Options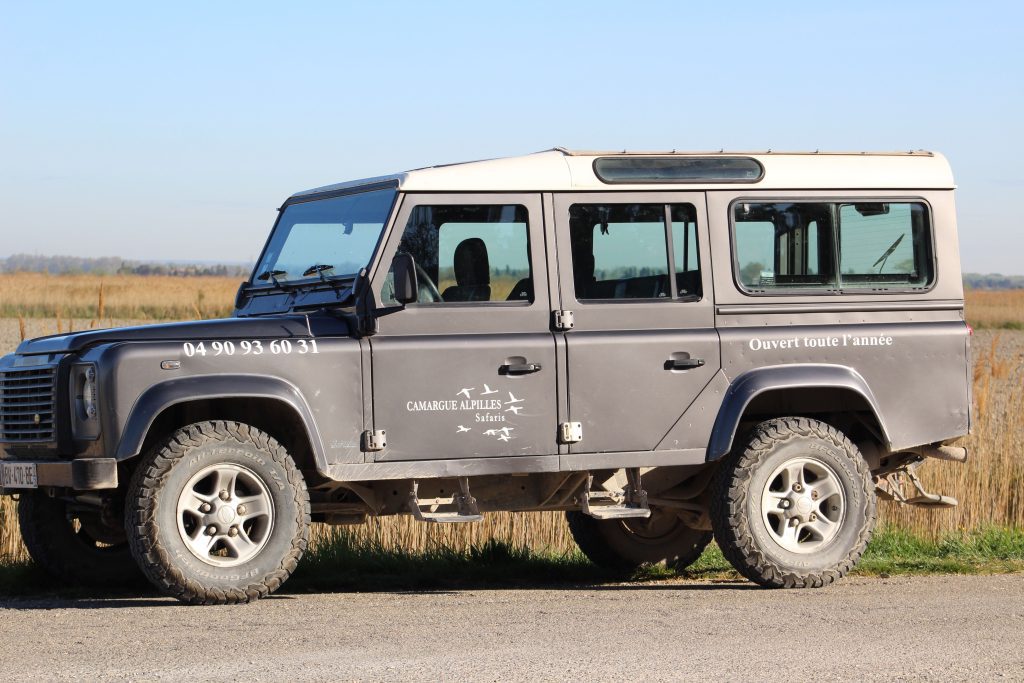 There are several companies that offer a day trip to the Camargue. I ended up going with Camargue Safari who offer departures from both Arles and Saintes-Maries-de-la-Mer twice a day. You can book direct on their website, via Viator and Get Your Guide, or in person at the Arles tourist office. They are group tours in jeeps, with a max of 8 people, but there ended up just being 5 on my tour.
As I was based in Nîmes, I booked my tour online on Viator as Get Your Guide wouldn't allow me to book for just one person. You can fill in a form on their website to book, however, as I was booking it the night before I spent the extra money to be guaranteed a space by using Viator. From what I can gather, booking it in person is the cheapest option.
My tour was leaving from Arles, which meant that it also included a 30-minute stop in Saintes-Maries-de-la-Mer. Some of the reviews complained this wasn't enough time, but as I was there for the animals I didn't mind such a short stop.
Departing for the Camargue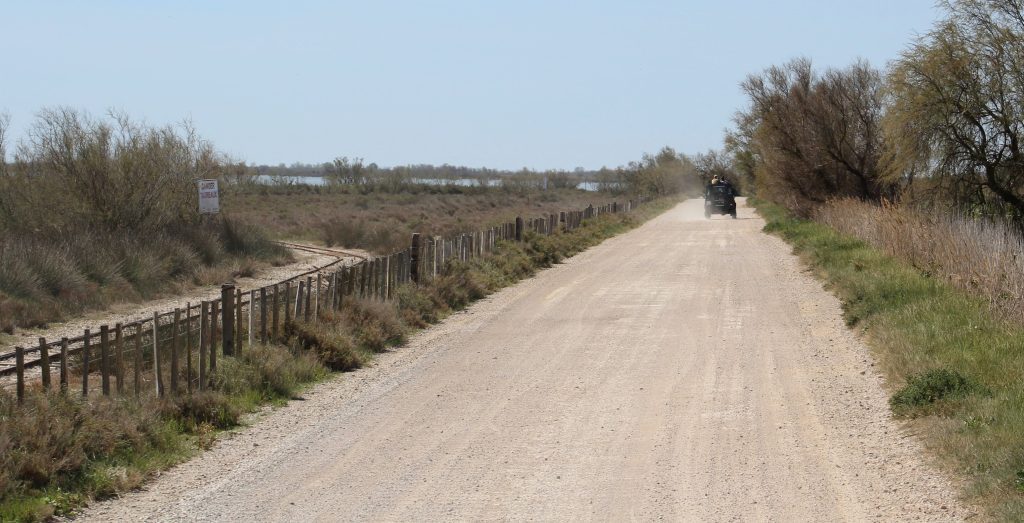 After spending a day in Nîmes, I decided I wanted to take a day trip to the Camargue as then I could also visit Arles after. When I was in France, there were protests on the second day I was there, which meant I didn't want to book anything until after 5pm when I could be sure that the trains were running the following morning. This meant that unfortunately I was too late to book the 9am tour, so had to pick the 2:30pm tour instead.
The last train back to Nîmes was just after 7pm, and as the tour lasts four hours I was quite nervous about getting back late and missing the train. So, what I did was turn up for the 9am tour anyway, and ask nicely if I could switch to it. After the first driver to arrive made some calls, and confirmed my booking, they were more than happy to accommodate me, which was fantastic. I ended up in a jeep with a family of four, who live in the same city as me!
The Camargue Horses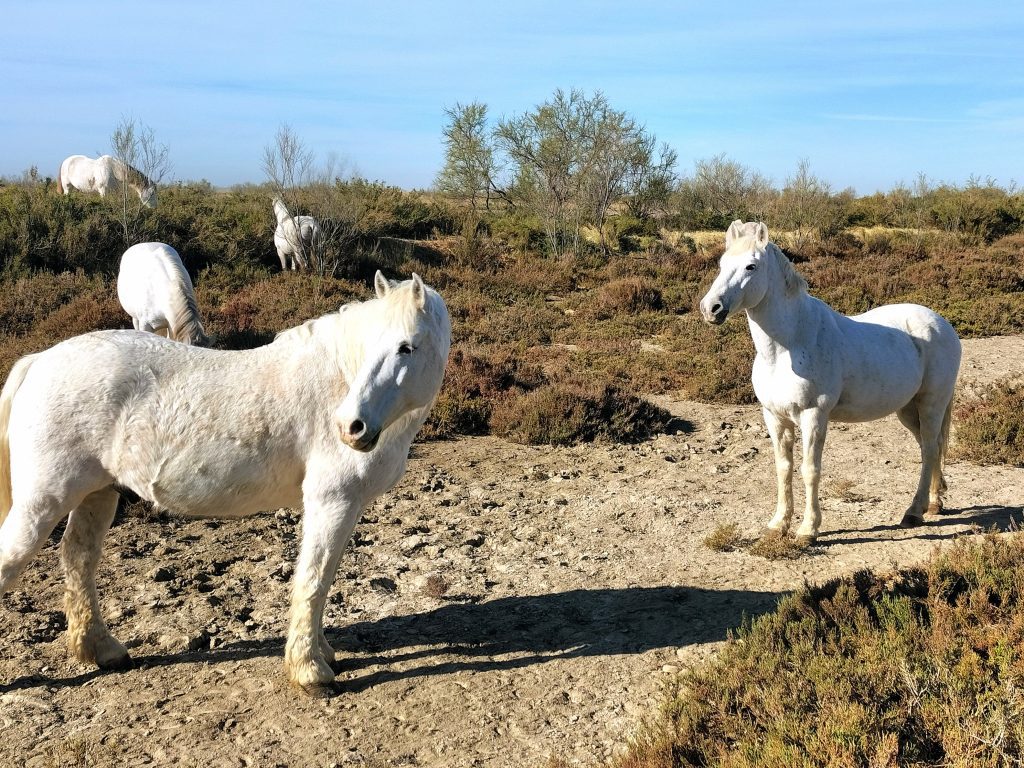 One of the animals that the Camargue is famous for is their white horses, and these were the first animals we saw on our tour. As we were driving along, there was a large group of them on the side of the road. Our guide stopped to give us the opportunity to take lots of photos, and then explained that all the horses we saw were female (or young males). The male horses are kept on the farms and used by the workers to handle the bulls while the female ones are free to roam around. None of them are wild anymore, but they have a lot of freedom which was lovely to see.
I was obsessed with white horses as a child. The Silver Brumby books were one of my favourite series, and so it was so lovely to see so many in person. An interesting fact shared by the guide was that the horses are born dark and then turn white as they age. Also yes, technically these horses are considered "grey" rather than white, as white horses is a term reserved for horses with white skin rather than white hair.
The Camargue Bulls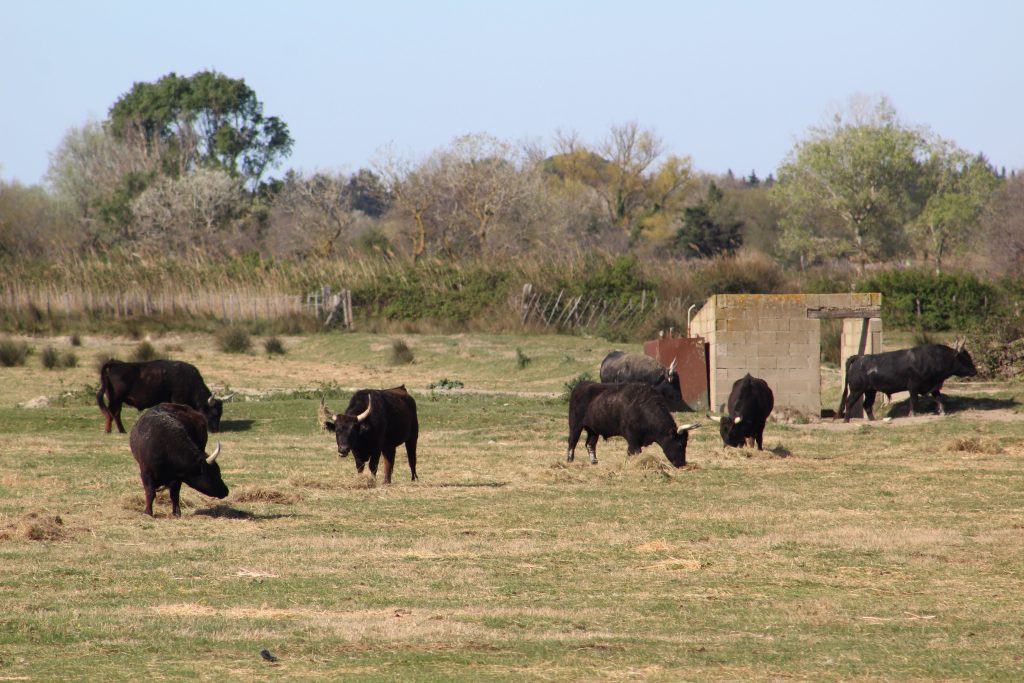 Next up was the Camargue Bulls. Turns out, there are two separate kinds of bulls that you can see in the Camargue – the local Camargue ones and Spanish ones. Our guide took great care to make sure we knew that the Camargue bulls were only for "playing" with. They can live a long time, as what they do is tie string around the horn then try and remove it in the arena. The Spanish Bulls are the ones used for bull fighting, and get killed.
At the start of the tour, one of the places we visited was actually a memorial for a famous bull.
Not all of the bulls make it to the arena though. Our guide explained that each year they look at the herd and decide which ones would be good for the arena while the rest become food. One of the speciality dishes in the area is Gardiane de Taureau, which is bull meat in a red wine stew. I tried this at a restaurant and it was delicious!
Saintes-Maries-de-la-Mer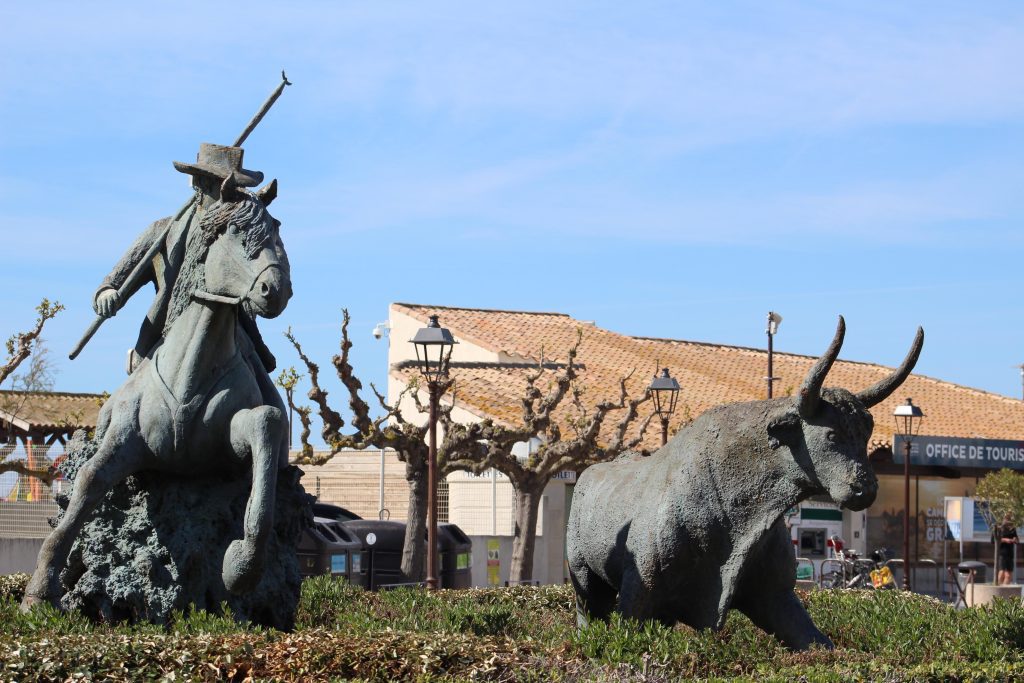 During the tour, we had a half hour stop in the town of Saintes-Maries-de-la-Mer which is located in the south west of the Camargue. Our guide told me I had to visit the church, as it's dedicated to Saint Sarah. Although it was only a short stop, it was enough time that I was able to have a quick look around the church and the surrounding shops. I bought myself some Camargue salt as a souvenir, then just had to buy some lavender too as it smelt so good! After this, I made my way across the main road and over to the beach so that I'd be able to see the Mediterranean. The water was pretty cold, but that was fine as I didn't have time to swim.
If you were visiting the Van Gogh sites in Arles, then this is another good destination to visit as he painted quite a few here too. You can also take safaris that depart from here instead of Arles for those that want to spend more time in the town itself. The main complaint I saw about the tour was that you didn't get much time in the town, and although it was just a short stop I didn't mind as I was more focused on seeing all the wildlife.
Flamingos and other birds of the Camargue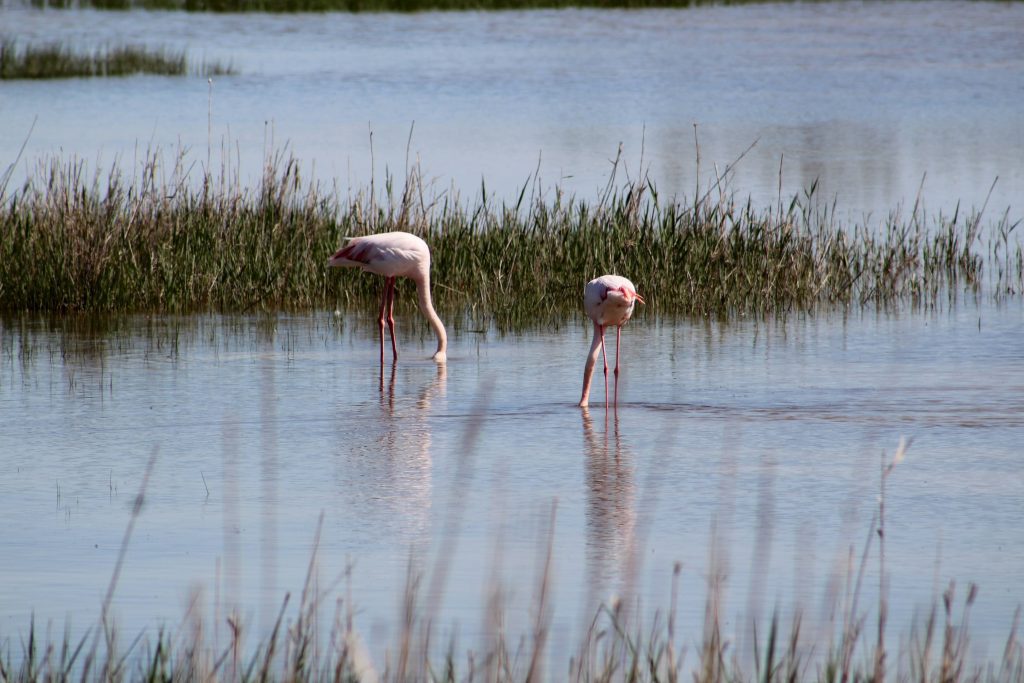 During our stop, I'd bought a postcard featuring a pair of flamingos so I was definitely very eager to get a glimpse of them. It didn't take long at all after leaving Saintes-Maries-de-la-Mer until we spotted some in the distance. Because they're in the water, you can't get too close. I recommend taking a zoom lens with you, or a pair of binoculars. The first spot only had a few, but as we continued on our safari we found even more flamingos.
Although they are the most famous in the Camargue, flamingos definitely aren't the only birds around. We got very lucky and saw both a swan nest and a stork nest. The stork nest was definitely something we wouldn't have noticed without our guide to point it out to us. Other birds we saw included egrets and black-winged stilts. I'd never been much into bird watching before, but it was really fun on this trip.
Returning to Arles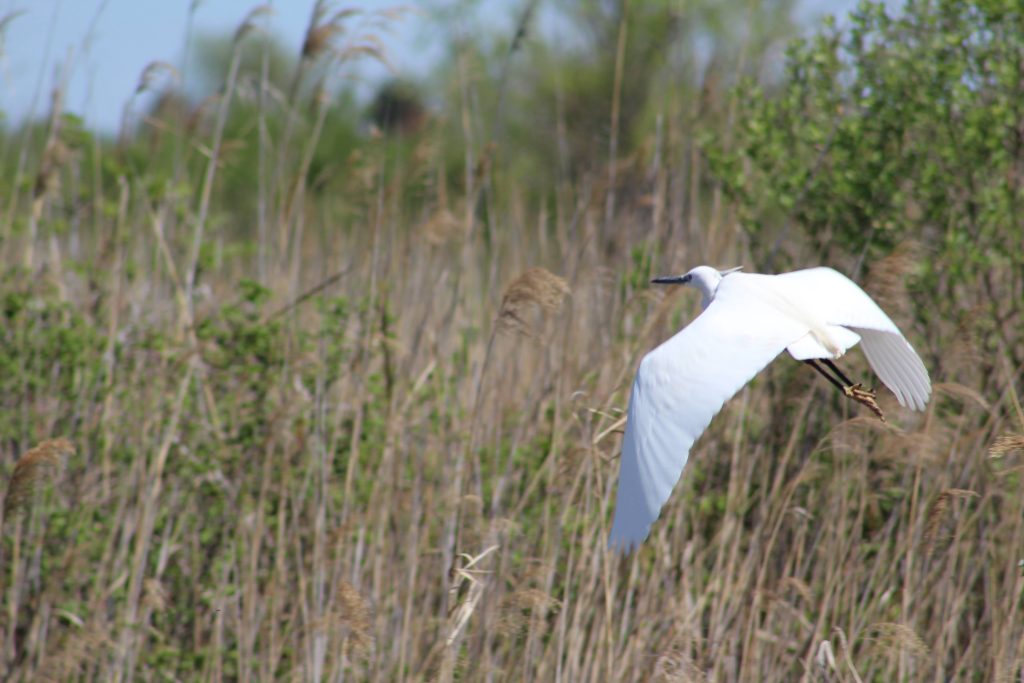 We got back to Arles almost exactly 4 hours after we left. Unfortunately, the tourist office closes at 1pm for an hour, and I wasn't going to sit around that long. Still, this gave me plenty of time to then explore Arles before heading back to Nîmes. I had been a bit hesitant about spending so much on a day trip to the Camargue but I'm so glad I did. It was a fantastic experience and I got to finally make great use of my zoom lens.
I feel that even if I had been able to rent a car, I wouldn't have seen nearly as much by myself. Our guide knew all the best spots to see wildlife, and took us off the main roads onto tracks that I definitely wouldn't have felt comfortable driving on.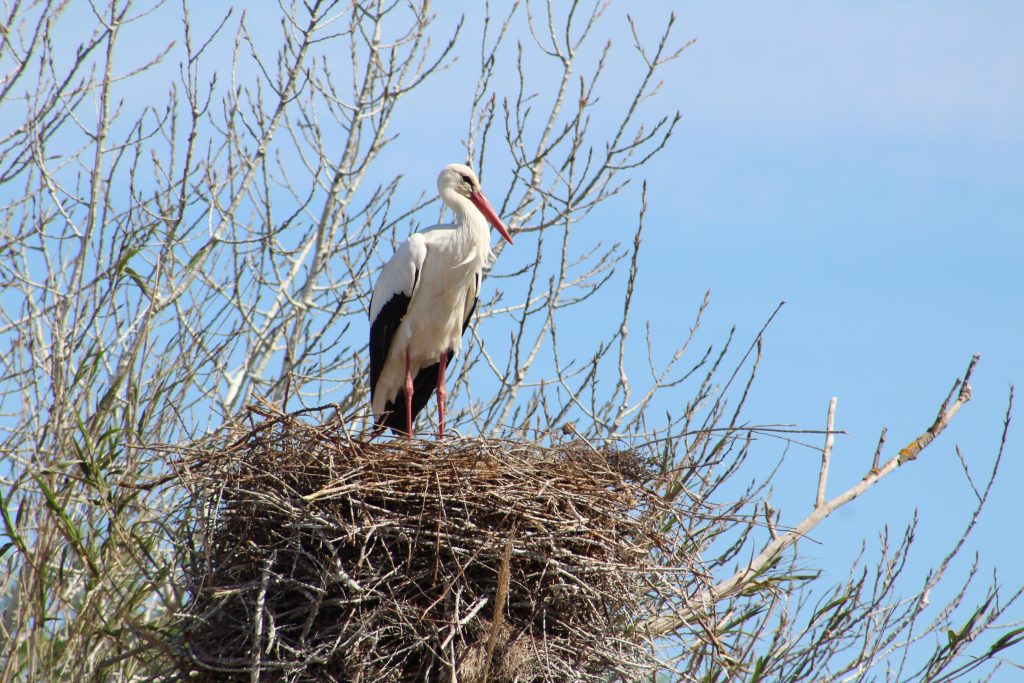 ---
Have you visited the Camargue? What did you think? Were you able to see all the animals? Do you think a day trip to the Camargue was worth it?